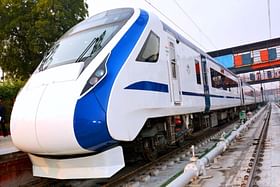 Amid the uncertainty over the pricing of India's first aluminium-bodied Vande Bharat sleeper train, the Indian Railways is yet to freeze the bidding process in which the French rolling-stock major Alstom has emerged as the lowest bidder.
Alstom has been asked by the tendering committee to negotiate and reduce the bidding price of Rs 150.9 crore, quoted for the manufacturing of 100 aluminium-bodied Vande Bharat trains.
According to the Railways, the lowest quotation of Rs 150.9 crore is also on the higher side.
It is learnt that though the French major has agreed to lower the price a bit to get the contract, the Railways is yet to agree on it.
Alstom emerged as the lowest bidder for the Rs 36,000 crore tender for the manufacturing and maintenance of 100 lightweight Vande Bharat trains with AC sleeper coaches and an operational speed of 200 kmph.
Since the Railways has awarded the earlier contract to manufacture Vande Bharat sleeper edition at Rs 120 crore per train, the Rs 150.9 crore quoted by Alstom is on the higher side and it has to be reduced, maintains a senior Railway Ministry official who is aware of the development.
However, there is a difference between the Rs 120 crore per train quoted by the Russian rolling stock company TMH and Rs 150.9 crore per train by Alstom. While the former will be made of steel, the latter will be of aluminium body.
Since the company has to import aluminium for the train, which involves custom duty, a supply chain also has to be established.
Another difference is that steel-bodied Vande Bharat will be running at 160 kmph, while the aluminium-bodied Vande Bharat will be meant to run at 200 kmph.
The financial bids, opened on 31 May this year, had only two major rolling stock giants — Alstom and Medha, who were in the race.
Both were technically qualified and Alstom emerged as the lowest bidder after the finance bid was opened.
While Alstom quoted Rs 150.9 crore for making one aluminium-bodied Vande Bharat with sleeper facility and became the lowest bidder, Medha quoted Rs 169 crore and lost out to the former.
The trains are to be manufactured at the Railways' facility at Sonepat in Haryana. With the provision of 35 years of maintenance, the order is estimated to cost Rs 36,200 crore without tax and price variation clause.