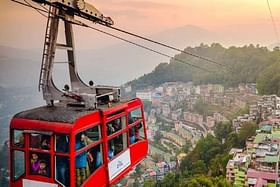 Work is likely to begin soon on six ropeways at different places in Bihar, including three at Gaya and one each at Jehanabad, Kaimur and Rohtas.
This was announced by Bihar Finance Minister Vijay Kumar Choudhary on 28 February while tabling the Budget for fiscal year 2023-24.
These ropeway projects include Rohtasgarh Fort in Rohtas, Mundeshwari Hills in Kaimur and Banawar Hills in Jehanabad district.
Gaya district, on the other hand, will get three ropeways at Pretshila Hills, Dungeshwari Hills and Brahmayoni Hills.
Most religious places in Bihar are located in mountainous regions and the best way to reach them is through ropeways. As such the government has proposed to construct these six ropeways linking major religious places in south Bihar.
The Rohtasgarh ropeway will provide connectivity to Rohtasgarh fort; one of the largest forts in the world, spread over a radius of 26 miles. Since ancient times, there have been only four routes in all four directions to reach Rohtas hill, which are called Ghats.
The Mundeshwari Temple dedicated to Maa Durga and Lord Shiva is situated at a height of 608 feet on Kaimur hill and is believed to be from the Kushan period.
Three new ropeways in Gaya would ease the difficulty of travelling for international tourists and attract domestic tourists who visit famous shrines considered holy among the Hindus, the Buddhists and the Jains.
Two Existing Ropeways
The State has currently two such facilities – Mandar Ropeway and Rajgir Ropeway.
A beautiful city positioned in the Nalanda district, Rajgir entices the attention of the tourists from all over the globe. The place is enveloped by rocky hillocks and is placed in a valley and is home to various Hindu temples and monasteries.
The Ropeway at Rajgir takes one uphill to the Shanti Stupa and Monasteries built by the Japanese Devotees on top of the Ratnagiri hills.
The Mandar ropeway at Mandar hills in Banka district was inaugurated in September 2021. It has been developed by the state tourism for worth over Rs 9 crore.
The travel length of the Mandar ropeway is 377.36 metre and it can cover the distance from the station at the base to the top of the hill within four minutes approximately.