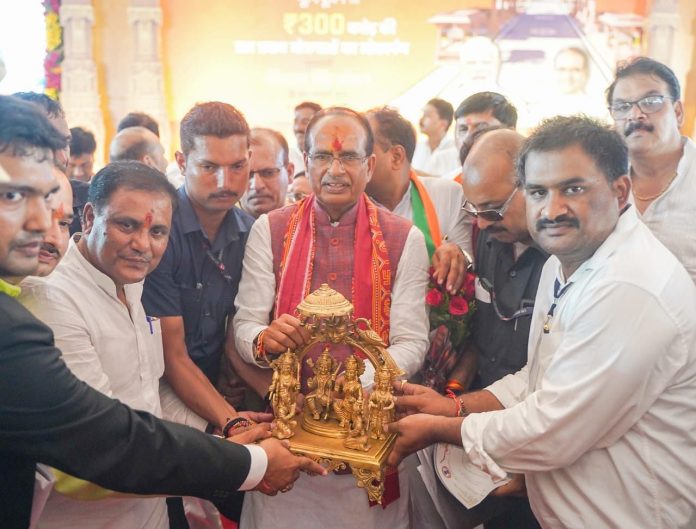 A new 'Shri Ramraja Lok' is set to come up at Orchha in Niwari district, Madhya Pradesh. The foundation stone for the same was laid by Chief Minister, Shivraj Singh Chouhan earlier this week.
Addressing the meeting, CM Chouhan underscored the importance of Orchha as abode of Lord Ram by using a popular verse –
"जग व्यापक श्री राम के दो निवास हैं खास, दिवस ओरछा रहत हैं, रैन अयोध्या वास"
(The two abodes of Shri Ram are held divine in this world, in the day he resides in Orchha and Ayodhya at the night).
The Chief Minister also said, "Today the sun of good fortune of Madhya Pradesh, Bundelkhand and Orchha is going to rise because the foundation stone of building Shri Ramraja Lok has been laid in Orchha.
The CM further announced the construction of a grand temple of Achharu Mata at a cost of Rs 2 crore. He also inaugurated the project of Jal Jeevan Mission here.
According to reports, under this scheme, projects worth more than Rs 143 crore will be executed in Orchha. A prasadalaya and queue complex are supposed to be built here. Along with the development of the temple complex, shops will also be rehabilitated and beautified.
The corridor and courtyard will be developed on the "baalswarup" (child form) theme of Shri Ram. Along with the development of public facilities, state-of-the-art lighting arrangements will be made.
Chief Minister said that he has prayed to Shri Ram Raja Sarkaar for adequate rains in the state. He also referred that he had earlier offered his prayers to Lord Mahakaal as well to deliver the state from this critical situation.
Chouhan also added, "I am uniting day and night. Wherever I get it, I will try to get enough electricity, so that I can give you enough electricity to save your crops. My farmer brothers and sisters, no matter how big a crisis comes, do not panic. By the grace of God, I will take you out of this crisis of scanty rains."