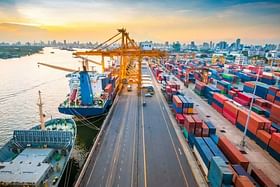 The Maritime India Vision 2030 is a ten-year blueprint for the development of maritime sector released by Prime Minister Narendra Modi.
To develop global standard ports in India, Maritime India Vision (MIV) 2030 has identified several initiatives including the development of world-class mega ports, trans-shipment hubs, and infrastructure modernisation of ports.
The Union Minister for Ports, Shipping and Waterways, Sarbananda Sonowal said that investment opportunities in the range of Rs 100,000–125,000 crore is expected for expanding capacity and creating world-class infrastructure at Indian ports.
Currently, India's ports are unable to handle ultra-large container vessels due to lack of necessary land-based mega port and terminal facilities.
The unavailability of the advanced large-scale port infrastructure is preventing Indian shipping and ports sector from meeting global standards.
In order to accommodate the ultra large container ships, the ports need a higher draft and several large crane systems.
As these large container vessels seek speedy unloading of large volumes of cargo, the ports require to be equipped with better yard management capability, increased automation, larger storage facilities, more inland connectivity and enhanced labour productivity.
The upcoming ports at Vizhinjam in Kerala and Vadhavan in Maharashtra have natural drafts in excess of 18 metre that would enable ultra-large container and cargo vessels to be accommodated on the ports.
The Vadhavan will aid in accommodating huge container ships as well as breakbulk cargo liquid including Liquefied Natural Gas (LNG). The port will host containers of 16,000-25,000 TEU (twenty-foot equivalent unit) capacity.
Vizhinjam Port has been planned to offer large scale automation for quick turnaround of vessels with adequate advanced infrastructure to handle 'Megamax' containerships.
It has a natural draft of 20-24 metre and minimal littoral drift. The port's capacity in its first phase is to be 1 million TEUs and in subsequent phases another 6.2 million TEUs will be added.
The container throughput of Indian ports stood at 17 million TEUs for the period 2020, whereas, that for China stood at 245 million TEUs for the same period. The combined container throughput across the top 20 major global ports stood at 357 million TEUs during 2020.
The Maritime India Vision 2030 is a ten-year blueprint for the maritime sector released by the Prime Minister of India at the Maritime India Summit in November 2020.
The vision aims to elevate waterways, drive growth in the shipbuilding sector and encourage cruise tourism in India.
MIV 2030 has identified over 150 initiatives across ten themes covering all the facets of the Indian maritime sector. It is a comprehensive effort to define and achieve national maritime objectives.
The mission has several policy Initiatives and development projects under it. It plans development of green sustainable ports with an aim to increase the share of renewable energy to over 60 per cent by 2030 from current levels of less than 10 per cent.
Additionally, the mission aims to promote waste to wealth through sustainable dredging practices and domestic ship recycling.