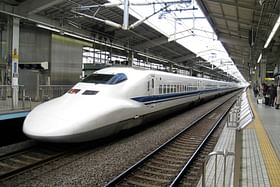 The station will feature six platforms, each measuring about 414 meters long, capable of accommodating a 16-coach bullet train.
Hindustan Construction Company (HCC) and Megha Engineering & Infrastructures Ltd have secured a contract worth Rs 3,681 crore from the National High-Speed Rail Corporation Limited (NHSRCL).
The joint venture will construct the Bandra-Kurla Complex Station, the only underground station on the Mumbai-Ahmedabad high-speed rail corridor.
Apart from building the station, the contract also includes constructing a retrieval shaft, architectural finishing, MEP works, and testing and commissioning. The station will have three floors with state-of-the-art amenities, such as waiting areas, a business-class lounge, a nursery, restrooms, smoking rooms, and information kiosks. Its cumulative floor area is around 2,00,000 square meters.
The first floor of the station will be used for station administration and storing equipment required for the operation of the bullet train. This floor will house offices, control rooms, and other facilities essential for managing and monitoring the train's operations.
The second floor will be the main passenger area of the terminus, and it will feature a range of amenities and services for travelers. According to the design, this level will consist of a food court, retail shops, and ticket counters. This floor will also provide access to the platform level via escalators and elevators.
The third floor of the station will have six bullet train platforms, with each platform measuring about 414 meters long and capable of accommodating a 16-coach bullet train. It will be easily accessible to commuters as it will b linked to both the metro and road transport.
The Bandra-Kurla Complex station will serve as the first stop on the 508-km high-speed railway corridor between Mumbai and Ahmedabad.
As of February 28, 2023, the project has achieved an overall physical progress of 26.33 per cent, as reported by the ministry on Twitter.
Maharashtra has completed 13.72 pr cent of the total work, whereas Gujarat has finished over 52 pr cent of the civil work and currently has an overall completion rate of 36.93 per cent.