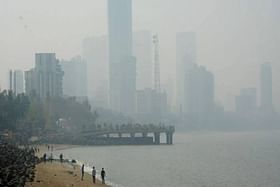 During the peak winter months from November to January in 2022-2023, air quality in India's financial hub has noticeably fallen due to various factors.
The Brihanmumbai Municipal Corporation (BMC) held a meeting involving relevant departments to develop a plan of action, for addressing the issue of air pollution in the city.
The meeting was chaired by Sanjeev Kumar, additional municipal commissioner (environment), who directed the officials to ensure that contractors comply with the Environment Protection Act (EPA) 1986 and the Air (Prevention and Control of Pollution) Act 1981.
These rules which are mandated in the tender conditions for most BMC projects.
The building proposals department was also asked to ensure that private developers follow air pollution norms, as per Hindustan Times report.
The additional municipal commissioner stated that, "All these departments have been asked to work as a team to enforce these guidelines. We are working on multiple indicators and work is in progress to ensure air pollution is brought under control."
The BMC's environment department will issue fresh guidelines in this regard to other departments.
"All tenders for various infra projects already have conditions for environment protection that contractors need to follow. These guidelines were either not being adhered to or not taken seriously. Through fresh instructions, the departments will have to ensure that contractors abide by the tender conditions," an environment department official stated.
These developments come in a day after Maharashtra Deputy Chief Minister Devendra Fadnavis apologised to citizens for the inconvenience caused by traffic jams, congestion and pollution with the development works taken up in the city.
He added, "Don't worry you will not have to face them again for the next 30-40 years once the ongoing works are completed in the next two-three years."
Mumbai's Growing Air Pollution
During the peak winter months from November to January in 2022-2023, air quality in India's financial hub has noticeably fallen due to various factors.
According to recordings by SAFAR (System of Air Quality and Weather Forecasting and Research), a government monitoring system that tracks pollution and air quality in Indian cities, the Air Quality Index (AQI) was between 300 and 400 for 23 days in January 2023.
AQI serves as a tool to measure the quality of air in a given area. It is measured from 0 to 500.
According to SAFAR's AQI monitoring chart, any number above 200 is considered poor air quality, and anything above 300 is seriously dangerous to health and the environment.
Further in this month, Swiss air tracking index IQAir, a monitor that tracks the Central Pollution Control Board (CPCB) data, ranked Mumbai as the most-polluted city in India during the week between 29 January and 8 February 2023.
As one the largest, busiest growing cities, challenges of air pollution are not new to Mumbai and its surrounding areas.
As per BMC, the contributing factors to Mumbai's deteriorating air quality were identified as; Traffic congestions; Road and construction dust; Industries and power sector; and Waste burning.
However, being a coastal city with strong surface winds and a higher dilution of pollutants, Mumbai manages to wash away its emission load. This year, however, the air quality exceeded to severe conditions.
P Velrasu, additional municipal commissioner (Projects), recently stated during his interaction with The Indian Express, that due to slow wind speed the city is experiencing this year, the dust particles in the lower atmosphere are not dissipating easily.
There has also been a change in weather pattern. Also, more than 3,000 construction developments are ongoing in and around the city due to which digging and boring work is being undertaken.
There are also refineries around Mumbai which is a contributing factor. Therefore, all these issues have played a combined effect.
According to a 2020 study by Centre for Science and Environment (CSE), which assessed four major industrial clusters surrounding Mumbai — the Trans-Thane Creek, Taloja, Ambernath and Dombivali — the massive use of coal in the Mumbai Metropolitan Region acts as a key factor for the deteriorating air quality.
BMC's Mitigation Plans
Mumbai and the Mumbai Metropolitan Region (MMR) are currently experiencing a notable infrastructure transformation that is unprecedented for the city.
This overhaul is critical to harness the city's economic potential and enhance the quality of life for its residents.
The BMC and state government's primary focus for this year is to enhance the city's physical infrastructure. For the same, this year's budget also sees funds allocated to roads, bridges and Coastal Road to have increased three times.
Acknowledging the ongoing construction works, BMC Commissioner, Iqbal Chahal said that the civic body's seven-step policy will also include guidelines for real-estate firms to be implemented at the construction sites.
"While infrastructure development is important for growth, at the same time we need to embrace sustainable development measures, since dust pollution is also becoming a matter of concern."
The steps have been announced under the 'Clean Air Mumbai' initiative, which will broadly focus on:
Sustainable and clean construction and demolition
Road dust reduction measures
Clean transport measures
Sustainable waste management measures
Ecologically sustainable urban greening projects
Effective monitoring
Communication and Awareness Campaigns
With these broad categories, the civic body is in the process of taking various decisions and initiatives.
The ongoing smaller and larger construction activities will have to adhere in providing dust screens along the external face of buildings, sprinkle water on these curtains and at ground floor in the open spaces, covering of all vehicles transporting debris and construction materials.
The body has also planned to install air purifier at five most crowded areas – Dahisar toll naka, Mulund check naka, Mankhurd, Kalanagar junction and Haji Ali junction.
Additionally, the BMC plans to procure about 3,000 more electric buses and over a course of time, take the total fleet of electric buses to 7,000.
The civic body is also banking on creating more urban forests with the Japanese Miyawaki method.
The city already has planted about three lakh trees using this method and hopes to take this number up to four lakh trees this year.