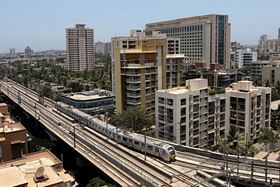 The Mumbai Metropolitan Region Development Authority (MMRDA) has established an internal study group to evaluate Reliance Infrastructure Ltd (RInfra)'s proposal to divest its ownership in the Mumbai Metro-1 corridor.
The goal is to evaluate the value of India's first public-private-partnership (PPP) metro rail project, — between Versova-Andheri-Ghatkopar — for its acquisition from RInfra-led special purpose vehicle, Mumbai Metro One Private Limited (MMOPL).
Mumbai Metro-1's functioning is in focus with India's largest bank, State Bank of India (SBI), taking legal action at the National Company Law Tribunal to recover Rs 416 crore from MMOPL.
In addition to SBI, MMOPL's other lenders include Canara Bank as the lead bank, along with IDBI Bank, Indian Bank, Bank of Maharashtra, and India Infrastructure Finance Company (UK), as per a Free Press Journal report.
The corridor marks India's first metro project funded by domestic banks and is also the first to be awarded on a PPP model.
MMRDA holds a 26 per cent share in MMOPL, while RInfra, owned by Anil Ambani, holds 74 per cent.
According to ET Infra, the internal study group, formed in April, includes former chief secretary Johny Joseph, additional chief secretary Bhushan Gagrani and executive director of Mumbai Metro Rail Corporation Ltd R Ramana.
The committee's task involves examining RInfra's different submissions and producing a report — including aspects such as project representations, valuation, and recommendations on the acquisition of Metro-1, including its enterprise value assessed by a consultant.
As per the documents procured under Right to Information Act by Anil Galgali in January 2023, Reliance Infrastructure had made an offer in July 2020.
The letter said, "MMRDA may fully develop one depot at DN Nagar owned by MMOPL in the suburbs, as well as, develop 12 stations through real estate," reports ET Infra.
"At present, FSI available under Development Control rules is of around 68 lakh square feet. The current construction area is 5.06 lakh square feet and the area available for development is 85.81 lakh square feet. Therefore, the total saleable area is 91 lakh square feet, which can be used for headquarters and government offices of all metro lines," stated the letter.
The concession agreement between MMRDA and MMOPL was signed on 7 March 2007.
Once the study group submits the report, it will require initial approval from MMRDA's executive committee and subsequently from its authority.