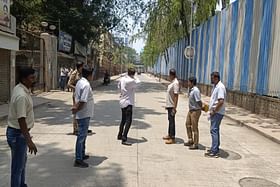 The Lallubhai Park Road in Andheri west is all set to become the first cement concrete road in Mumbai to boast of a first-of-its-kind utility corridor.
The Brihanmumbai Municipal Corporation (BMC) in April 2021 had started work to lay a utility corridor under Lallubhai Park Road. After a year of hard work, the 1.8-km road is set to be completed soon.
The project included the installation of cross-connection ducts located 30 metres apart, which will prevent the need for future digging to lay cables.
The cross-connection ducts will carry the utility lines to either side of the buildings as per requirement.
The Andheri MLA, Ameet Satam, who had first mooted the project in the state Assembly in 2017, said that it was a dream come true for him as the Lallubhai Park Road is the first in the city with a planned utility corridor and henceforth, all future roads in city will be built with this technology.
Following a request from the local MLA, the BMC deployed machinery for conducting GPR (Ground Penetration Radar) survey which revealed over 30 different cables, including those for electricity, gas, and the internet, running below the road.
Satam's letter, addressed to CM Eknath Shinde and deputy CM Devendra Fadnavis in 2022, highlighted that the deteriorating state of the city's roads is due to continual, unplanned digging for various purposes. Thus, he proposed the incorporation of the utility corridor provision in the road tender itself.
The project will minimise the amount of digging required and reduce damage caused to the city's roads during cable-laying work. "The idea is that once a road is built, there should be no need to dig it up unless the road itself is being repaired," said a BMC officer.