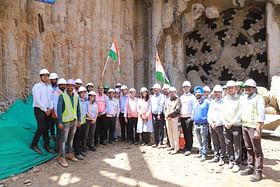 NCRTC has achieved one more milestone with another tunnel breakthrough of the Delhi-Ghaziabad-Meerut RAPIDX corridor at Ghaziabad on Wednesday.
The tunnel boring machine (TBM) also known as Sudarshan 4.3 made the breakthrough from the retrieval shaft constructed opposite the Vaishali Metro Station, Ghaziabad.
Earlier, Sudarshan 4.1 made the first tunnel breakthrough in the Delhi section in April, this year.
Sudarshan 4.3 was launched for the tunnelling of around 2-km long tunnel from Anand Vihar RAPIDX Station towards Sahibabad.
After being lowered at the launching shaft constructed north of Anand Vihar RAPIDX Station, it completed the tunnelling work in less than 11 months.
RAPIDX tunnels have a diameter of 6.5 metres which is highly optimised as compared to global benchmarks of tunnels for a similar design speed of 180 kmph with wider and higher rolling stock.
Compared to the other rail-based urban mass transit systems in the country, this is for the first time that a tunnel of such a large size is being constructed.
Tunnelling in this section was a challenging task as going towards Sahibabad, this tunnel passes underneath a flyover, a drain and industrial establishments.
National Capital Region Transport Corporation (NCRTC), through strategic planning and innovative methods, overcame these challenges successfully and made it possible, with minimum public inconvenience.
A total of four tunnels are being constructed in Delhi and Ghaziabad section for the 82-kilometre Delhi-Ghaziabad-Meerut RAPIDX corridor for to-and-fro movement in both directions.
Two parallel tunnels of about 3 kilometres each in length from Anand Vihar towards New Ashok Nagar RAPIDX Station and about 2-kilometre-long twin tunnels from Anand Vihar towards Sahibabad RAPIDX Station.
Four Sudarshans (TBMs) were deployed for the construction of the underground section in Delhi and Ghaziabad to bore four tunnels out of which now, two have been completed.
Out of the total length of the other two tunnels, only about 800 metres are left to be bored for which two Sudarshans are working day and night and they will be completed soon.
In order to construct this particular 2-kilometre-long tunnel, more than 9,500 high-precision precast tunnel segments have been used which will ensure a long tunnel life.
In the tunnelling process, seven segments make one ring of the tunnel. Each of these tunnel segments is 1.5 metre long. These segments and rings are joined with the help of bolts.
The tunnel segments of this section are being cast at NCRTC's casting yard established at Karkardooma, Delhi.
NCRTC is aiming to commission the entire 82-km long Delhi-Ghaziabad-Meerut for the public by 2025. Before that, it will operationalise a 17-km long priority section between Sahibabad and Duhai shortly, ahead of the scheduled time.