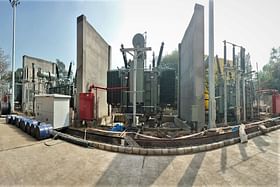 With a capacity of 50MW, the substation will not only supply power to the stations at Meerut, it will also be used as a backup for the priority section and Duhai Depot.
Ensuring power supply for RRTS train operations, as well as, to all stations, NCRTC has completed the construction work of Murad Nagar Receiving Sub Station (RSS) at Ghaziabad, with testing of the four transformers installed, underway.
Murad Nagar RSS has been constructed near Murad Nagar Regional Rapid Transit System (RRTS) station on the Delhi-Meerut RRTS corridor.
With the construction of the substation, the electric supply to power the RRTS stations and for train operations, has been ensured for the section from Duhai to Meerut South.
The RSS with a capacity of 50 MW, will supply power from the priority section towards Meerut, to the stations of Muradnagar, Modi Nagar South, Modi Nagar North, Meerut South and Partapur.
Along with this, it will be used as a backup for the priority section and Duhai Depot, so that there is no delay or interruption in power supply at the time of need.
National Capital Region Transport Corporation (NCRTC) has tied up with Uttar Pradesh Power Transmission Corporation Limited (UPTCL) for 220 kV (kilovolts) of power from the UPTCL grid substation.
The supply will come through EHT (Extra High-Tension Line) cable to Muradnagar RSS and from there after, 25 kV power will be used for train operations and 33 kV power will be used for all requirements of RRTS stations.
In order to ensure uninterrupted power supply to RRTS trains and stations, five receiving substations are being built by NCRTC from Delhi to Meerut.
These electrical substations are being constructed at Sarai Kale Khan in Delhi, and in Uttar Pradesh, it's being built at Ghaziabad, Muradnagar, Shatabdi Nagar and Modipuram in Meerut.
The completed Ghaziabad RSS is responsible for supplying power for the test run of RRTS, currently being carried out by NCRTC.
Under the Delhi-Meerut RRTS project, 25 stations are being built between Delhi and Meerut. A 17 km stretch on this corridor has been marked as a priority section consisting of five stations namely Sahibabad, Ghaziabad, Guldhar, Duhai and Duhai Depot.
NCRTC is targeting to commence the train operations, in the priority section, in 2023.
Apart from the priority section, the construction of the second operational section, between Duhai to Meerut South station, is also progressing rapidly. Power will be supplied to this section from Muradnagar RSS.
The implementation of the RSS has been planned in such a way, that if any RSS is not able to supply electricity due to any unforeseen reason, then the power supply in that area, by the other RSS, continues uninterrupted and smoothly.
NCRTC is building all its RSS to the highest standards of the Indian Green Building Council (IGBC) with rainwater harvesting, sewage treatment plant, green areas, LED bulbs, natural light and ventilation.