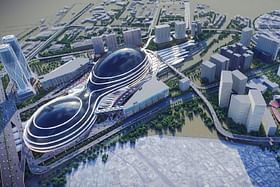 The revamped New Delhi railway station will combine railway facilities with commercial complexes, showcasing a modern and sophisticated design enriched with state-of-the-art technology.
Rail Land Development Authority (RLDA) had issued a fresh tender, in July first week, in connection with the re-development of the New Delhi railway station, after discharge of the earlier tender.
Larsen and Toubro (L&T) and NCC Ltd were among the ten major real estate players who participated in the pre-bid conducted by the RLDA, for the ambitious project at an estimated cost of Rs 4,700 crore.
The meeting was attended by prominent construction houses such as L&T, Shapoorji Pallonji, NCC Ltd., GR Infra, Dilip Buildcon, J Kumar Infra projects, Ahluwalia Contracts (India) Ltd., PSP Projects, ITD CEM Co. and Tirumala Seven Hills Pvt. Ltd.
Incidentally Indian infrastructure major L&T was the lowest bidder quoting Rs 8,740 crore for the re-development of New Delhi railway station, exceeding the Indian Railways estimate of Rs 5,000 crore last time.
As per the modified plan, the re-development work would be undertaken in the 3.5 lakh sqm under engineering, procurement, and construction (EPC) model, as against 4.5 lakh sq m taken up earlier.
The mega project involves replacing the existing structure with a twin dome-shaped facade at New Delhi station. Once completed, it would be an iconic structure to be identified with the capital city of India.
The re-development project is part of the Centre's plan to modernise most high-density stations, to ease passenger movement and improve the business prospects of these assets.
The last date for submission of e-bid is 29 September 2023, and the date of opening of e-bids (technical) is 5 October 2023.
The scope of work also includes dedicated access roads (elevated/at-grade), multi-modal transit hub buildings, parcel building, development of surrounding circulation area, etc.
RLDA vice chairman Ved Parkash Dudeja, said, "We are happy to note the enthusiastic participation of the leading national and international firms in the pre-bid meeting. The redevelopment of New Delhi Railway Station stands as one of our ambitious projects. Our objective is to elevate the New Delhi staion into a world-class transportation hub, providing state-of-the-art facilities and amenities."
Dudeja further said, "This comprehensive development plan envisions the station as an integrated transportation hub seamlessly connecting rail, metro, bus, and other modes of transport, ensuring convenient and hassle-free connectivity for passengers."
"The associated infrastructure construction includes the development of commercial spaces, multi-modal integration facilities, modern passenger terminals, parking facilities, world-class waiting lounges, and diverse amenities to cater to the needs of passengers," he added.
The revamped New Delhi railway station will combine railway facilities with commercial complexes, showcasing a modern and sophisticated design enriched with state-of-the-art technology and passenger amenities.
The innovative terraced, infinity shape of the station building spans three floors, providing a spacious concourse. Functioning as a terminal for transit-oriented development, it will serve as a multi-modal hub, catering to various transportation modes.
The earlier tender was discharged in May this year as the bidders quoted much higher price than the allotted cost. This is the fourth time that the RLDA is announcing a tender for this project with both, RFQ and RFP called twice each.
Since the cabinet has already approved the project so the Railways did not seek cabinet approval again for re-tendering the project. According to the RLDA, the process was a bit complicated earlier now it has been simplified.
In order to tackle traffic congestion, a comprehensive solution will be implemented, including strategically positioned seven flyovers on roads approaching the station and road widening initiatives.
These remarkable features synergise to elevate efficiency and convenience for commuters and travellers alike.
Facilities will include a food court, comfortable waiting lounge, play areas for children, and a space for local products. The station will prioritise comfort with proper illumination, clear signage, and convenient access through lifts and escalators.
A well-designed master plan will ensure smooth traffic flow and ample parking. Integration with other transportation modes, sustainability measures like green building techniques and solar energy, and facilities for differently-abled individuals will be implemented.
The stations will have separate areas for arrivals and departures, clutter-free platforms, improved surfaces, and fully covered platforms for passenger comfort.
Safety will be ensured with CCTV cameras and access control systems throughout the stations.
RLDA is a statutory authority under the Ministry of Railways for the development of Railway land. It has four key mandates as a part of its development plan, namely leasing commercial sites, colony re-development, station re-development, and multi-functional complexes.
During the current financial year, RLDA has leased out various sites which is situated at Waltax Road (Chennai), Ajmer (Rajasthan), Bijwasan (Delhi), Kharagpur and Solapur (Maharashtra), Sewa Nagar and Lodhi Colony (Delhi) for a cumulative lease premium of Rs 2,056.24 crore, including Railway assets valuing approximately of Rs 85.34 crore to be developed in Kharagpur and Sewa Nagar and Lodhi (Delhi) Railway Colony.
RLDA has recently awarded the station re-development works for CSMT railway station in Mumbai on the EPC model.