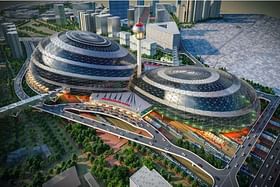 To alleviate congestion around the Paharganj side of New Delhi station, Northern Railway has planned the construction of 11 km of elevated corridors that will terminate at the station.
These proposed corridors will provide multiple entry points to the station from Basant Lane, Chelmsford Road and Deen Dayal Upadhyaya Marg. The exit ramp of the elevated structure will be located on Asaf Ali Marg and Bhavbhuti Marg.
Last month, the Rail Land Development Authority (RLDA) issued a tender for the project. A pre-bid meeting will be held on 2 August, according to Times of India report.
Additionally, the plan includes widening the roads surrounding the station, such as Chelmsford Road, Bhavbhuti Marg, Minto Road, Panchkuian Road, and Basant Road.
Currently, accessing the station can be time-consuming, particularly during peak hours. The project aims to reduce travel time and improve traffic flow in the Connaught Place area.
The New Delhi Railway Station currently receives more than 450,000 passengers.
An official from Northern Railway stated that the traffic at the station is growing day by day, regardless of whether it is from the Ajmeri Gate side or the Paharganj side, which are the main entry points.
The official emphasised the need to update the infrastructure in order to accommodate the increased capacity.
Station's Mega Redevelopment Plan
As part of the New Delhi Railway Station Mega Redevelopment Plan, a decongestion plan is being implemented.
The revamped station will feature a pedestrian boulevard connecting it to Connaught Place and will connect the Airport Express Line and Yellow Line of the Delhi Metro network with the New Delhi Railway Station via multi-modal transit hubs or MMTHs.
As part of the redevelopment project, two signature domes of six floors each will be built in the main station complex.
Separate arrival and departure areas, circulating areas, retail space and utility services spread over 2.2 lakh square metres of floor space will also be developed as part of the transformation project. The estimated cost of the project is around Rs 4,700 crore.
According to an RLDA official, the project will be executed using an engineering, procurement, and construction (EPC) model.
EPC contracts are a risk mitigation method where the contracted company takes responsibility for the engineering, procurement of materials, and construction aspects of the project.
Once completed, the project is handed over to the first party, providing assurance that all construction-related risks are borne by another party.