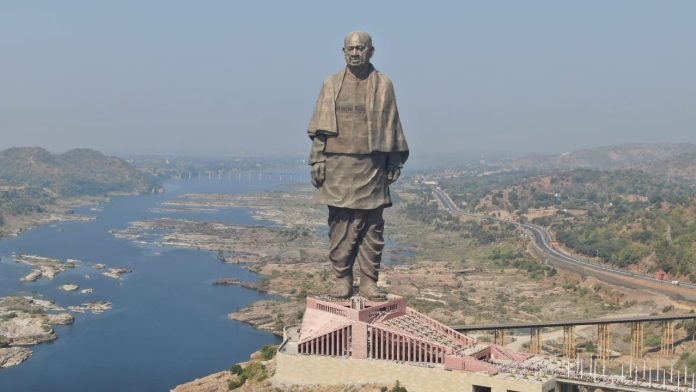 New Delhi, Jan 15: Prime Minister Narendra Modi would flag off six express trains including a Jan Shatabdi Express from Varanasi, Dadar, Nizamuddin, Rewa, Chennai and Ahmedabad for Kevadia, the place of the Statue of Unity in Gujarat, through video conferencing on January 17.
Besides the PM would also launch the MEMU train service on Sunday for Kevadiya from Pratap Nagar for facilitating local passengers to visit the newly created tourist spot with the 182-metre-high statue dedicated to Sardar Vallabhbhai Patel, India's first Deputy Prime Minister and Home Minister.
With this, the Statue of Unity at Kevadiya, built at a cost of Rs 3,000 crore, the tallest in the world, will be added to the railway map of India.
Kevadia, a village in the tribal Narmada district, is home to the Sardar Sarovar Dam reservoir on the Narmada river, and was a popular picnic spot even before the Statue of Unity came up.
Launching of the passenger service from various places is expected to attract more footfalls for Kevadiya which is likely to emerge as a major tourist attraction in the region with opening of the route connectivity through road, rail and waterways.
According to the Railways, a vistadome coach would be part of the Ahmedabad-Kevadiya Jan Shatabdi Express to enable tourists to enjoy the scenic beauty of the area along the journey.
Manufactured at ICF Chennai, the vistadome coach has got the safety clearance from Chief Commissioner of Railway Safety after the trial  run.
The Prime Minister will also inaugurate the newly electrified rail line section between Pratapnagar and Kevadiya besides new station buildings at Dabhoi, Chandod and Kevadia.
Though the Prime Minister had flagged off two freight trains on the Eastern and Western Dedicated Freight Corridor recently, passenger service is being inaugurated by him for the first time during the pandemic.
With the decreasing number of corona cases, the Railways has geared up for restarting more trains in a phased manner.
Currently about 1000 passenger-carrying trains are running and more would be added as the situation is improving gradually, said a senior railway official.
In the Sunday event to be attended by Railway Minister Piyush Goyal, Gujarat Chief Minister Vijay Rupani and other dignitaries, PM would launch Varanasi-Kevadiya Express, Dadar-Kevadiya Express, Ahmedabad-Kevadiya Jan Shatabdi Express, Hazrat Nizamuddin-Kevadiya Express, Rewa-Kevadiya Express, Chennai-Kevadiya Express, Pratap Nagar-Kevadiya MEMU Train and Kevadiya-Pratap Nagar MEMU Train.