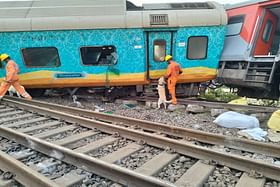 The recently launched Sanchar Saathi portal was found to be very useful for the Indian Railways during the relief and rescue work at the train accident site in Odisha. The portal helped trace around 185 victims, including dozens dead.
The web portal meant to help people track and block their lost smartphones came to the aid of the Railways in tracing the relatives of many accident victims, said a senior Railway officer who was on the accident spot in Odisha.
Sanchar Saathi allows customers to know the mobile connections issued in their name and also track and block their lost smartphones.
This artificial intelligence-based portal was recently launched by Railway Minister Ashwini Vaishnaw who also holds the Information and Technology portfolio.
In order to identify the bodies of the train accident victims, the portal traced the victims' phone numbers and Aadhaar details using their photographs. Following this, their family members were contacted, an official said.
By tracing calls made through nearby towers just before the accident and linking them to those which shut down immediately at the time of the crash, the Railways is trying to figure out if they belonged to the unidentified victims.
"We are trying to trace phones which were active just before the accident and shut down as soon as it happened. However, it was an uphill task as many of these bodies were beyond recognition," said an official.
The Railways made mammoth efforts to complete its rescue and restoration work in 51 hours. The Ministry deployed eight teams, each comprising 70 personnel and headed by an officer for the operation. DRMs and GMs supervised four teams each.
Five cameras transmitted live to Rail Bhawan, where it was monitored from the war room. The teams and officers did eight-hour shifts and took adequate breaks, officials said.
The Ministry claimed that the 51 hours taken to restore the affected section was less than the time taken in Greece where officials took five weeks to restore the tracks following a collision between a passenger train and a freight train on 28 February this year.
Of the 288 people killed in the accident on 2 June, as many as 83 bodies remained unclaimed as on Wednesday (7 June). Railway officials are also hoping to identify some bodies by using cellphone impressions around the accident sites.