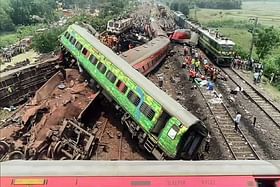 In a devastating incident near Balasore, Odisha, last week, the Coromandel Express bound for Chennai collided with the SMVT Bengaluru-Howrah Express and a goods train, resulting in one of the most dreadful train accidents witnessed in recent times. The heart-wrenching event claimed the lives of 275 individuals, leaving over 1,000 others injured.
Survivors have been bravely recounting their terrifying ordeals, shedding light on the immense trauma they endured. A race against the clock ensued as more than 2,000 dedicated personnel meticulously sifted through mangled steel wreckage, striving to locate and rescue the hundreds trapped beneath.
A recent development in this tragic incident involves the emergence of a video that captures the precise moment when the Coromandel Express met its catastrophic fate, as reported by the Indian Express.
Odisha TV shared the footage, which reveals unsuspecting passengers in a state of relaxation. Suddenly, an abrupt jolt sends shockwaves through the train, accompanied by the piercing sound of terrified screams.
The video quickly becomes blurred, adding to the sense of chaos and panic. Within a matter of seconds, darkness engulfs the scene, yet the haunting echoes of anguished shrieks persist.