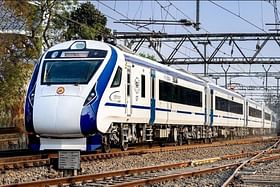 Following the successful trial run of the Howrah-Puri Vande Bharat Express, the semi-high-speed train is expected to commence operations on 15 May.
The first full trial run was conducted on 28 April with the train leaving Howrah at 6:10 am and arriving in Puri at 12:35 pm.
It departed Puri at 1:50 pm and reached Howrah at 8:30 pm on the return trip. During the trial run, the train was only permitted to go at a top speed of 130 km per hour
The Vande Bharat Express demonstrated its efficiency and speed during the trial run by covering 500 kilometres in just 6 hours and 25 minutes.
Prime Minister Narendra Modi is expected to virtually inaugurate the service alongside Railways Minister Ashwini Vaishnaw and Union Education Minister Dharmendra Pradhan.
There hasn't yet been a formal notification in this regard.
The train is expected to stop at a limited number of stations, including Kharagpur, Bhadrak, Balasore, Cuttack, Bhubaneswar and Khurda, making it simpler for pilgrims and visitors heading to Puri, Lord Jagannath's residence, from bordering states.
Given the influx of pilgrims and tourists to Puri sea beach, Jagannath Temple, the World Heritage Site at Konark, and Chilika Lagoon, the operation of Vande Bharat service will serve the purpose.
Railway Minister Ashwini Vaishnaw announced the launch of the Vande Bharat Express in Odisha in 2021.
The Vande Bharat Express train has 14 AC chair car coaches and two executive AC chair car coaches with a capacity of 1,128 passengers. They are equipped with indigenously designed, modern passenger amenities.
The railways plans to run 400 Vande Bharat trains across India in the next three years.
The train is manufactured with indigenous technology, equipped with modern features and enhanced comfort. It has automatic sliding doors, reclining seats in all classes, and rotating seats in executive classes.
While this will be the first Vande Bharat Express for Odisha, the state government has called for the introduction of two other semi-high-speed trains on the routes between Puri and Raipur and Bhubaneswar and Hyderabad.