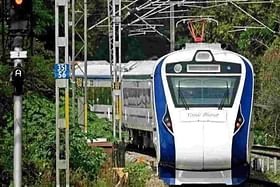 The Department of Public Enterprises on 1 May granted Navratna status to the Rail Vikas Nigam Limited (RVNL), the company said in an exchange filing.
The company has been in news for emerging as the lowest bidder for the manufacture and maintenance of 200 lightweight Vande Bharat trains in a joint venture with Russian company JSC Metrowagonmash-Mytischi (TMH).
The consortium made a bid of around Rs 58,000 crore, with the cost to manufacture one train set at Rs 120 crore.
RVNL is a Central Public Sector Enterprise (CPSE) under the Ministry of Railways, and was incorporated in 2003 with the twin objectives of raising extra-budgetary resources and implementation of projects relating to creation and augmentation of capacity of rail infrastructure on fast-track basis.
Normally, a CPSE requires permission from the Indian government to invest a large sum of money in a project or a deal.
The Navratna companies are CPSE companies that have been granted financial independence to invest up to Rs 1,000 crore without seeking approval from the central government.
Navratna companies are also allowed to invest up to 15 per cent of their net worth on a single project, or 30 per cent of their net worth in a given year, subject to a cap of Rs 1,000 crore. This increased financial freedom gives Navratna companies a competitive edge when competing globally.
With RVNL, India now has 13 Navratnas which includes companies like Hindustan Aeronautics Ltd, Bharat Electronic Ltd, Oil India Ltd and Rashtriya Ispat Nigam Limited.
The Rail PSU has also made a foray into highway sector. It recently emerged as the lowest bidder for construction of six-lane elevated Kona Expressway on NH-117 in West Bengal on EPC mode.
Similarly, TTIPL-RVNL Consortium (Tracks & Towers Infratech Pvt Ltd – Rail Vikas Nigam Limited) received Letter of Award from NHAI for construction of one of the packages of six-lane Greenfield Varanasi-Ranchi-Kolkata Highway.
It is also executing a number of metro projects such as Chennai Metro Phase-II Project.
Last month, RVNL emerged as the Lowest Bidder for supply of electrical system for main line & depot of Mumbai Metro line 2B . RVNL had participated in consortium with SIEMENS India Limited – Siemens is the lead partner with 60 per cent equity and RVNL is consortium partner with 40 per cent share.