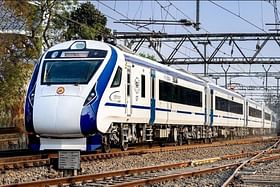 Indian Railways is likely to launch the Vande Bharat Express train connecting Jharkhand's capital Ranchi to Bihar's capital Patna in May.
Earlier, the semi-high speed train was expected to be launched in April but reports suggest that due to technical reasons the roll-out was postponed.
Though, no date has been announced by the Railways, but reports suggest that the train's operation is likely to start in the last week of May.
The train will save around two hours for the passengers commuting on Patna-Ranchi route.
Currently, the Janshatabdi Express reaches Ranchi via Bokaro-Muri and Hazaribagh road from Gaya, but the Vande Bharat train from Patna to Ranchi will be operated via Hazaribagh Town, Tatisilwai, Barkakana, Koderma, Gaya, and Jehanabad.
The train is reportedly expected to leave the Ranchi junction at 7.30 am and reach Patna Railway Station at 2 pm, covering the 350 km distance in little over 6 hours.
On its return journey, the semi-high speed train will leave Patna at 3.30 pm, and reach Ranchi at 10.30 pm, covering the distance in 6 hours.
The maintenance of the train is proposed at Rajendra Nagar Terminal in Patna, while the primary maintenance will be done at Hatia in Ranchi.