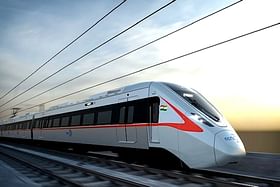 National Capital Region Transport Corporation (NCRTC) is reworking the fare chart of Delhi-Meerut Rapid train to make it competitive for the commuters.
The move comes in the backdrop of recently-launched New Delhi-Dehradun Vande Bharat Express which has a stoppage at Meerut and other mode of transportation available on the route.
According to sources, the commuter has to pay around Rs 170-200 for travelling from Anand Vihar to Meerut Central as against the chair car fare of Rs 485 in Vande Bharat for New Delhi to Meerut.
RAPIDX train is slated to be operational in the third week of June and before that the Rapid Rail Transport System (RRTS) fare chart is likely to be finalised.
Currently, there are many options available for travelling to Meerut which include an expressway, AC bus service and Shatabdi Express.
NCRTC maintains that the RAPIDX train fare has to be competitive keeping all other modes of services in mind.
It is expected to be in the range of Rs 3 to 4 per km for the RAPIDX travel to make the RRTS service attractive in comparison to other modes of transportation for commuters.
NCRTC had sent a proposal to the Housing and Urban Affairs Ministry outlining the fare structure of India's first regional train service.
Commissioning of the 17 km long priority section from Sahibabad to Duhai in Ghaziabad of the Rapid Rail Transport System is likely to be attended by Prime Minister Narendra Modi and UP Chief Minister Yogi Adityanath.
Extensive research has been done to fix the fares based on multiple factors, including international standards, existing fares of other public transport options and the unique regional rail experience that will be offered.
IIT-Ahmedabad had done a study on the possible fare structure of RAPIDX taking into account various factors like traffic flow, traffic projection.
According to NCRTC, RAPIDX service is different from any existing train or metro system as it will offer higher speed, frequency and reliability. It will also give more safety during commute and comfort.
RAPIDX trains would offer the faster service as the entire Delhi-Meerut trip will take 43 minutes and the trains will be available at a frequency of 5-10 minutes once operation along the entire corridor starts.
According to the detailed project report of RRTS prepared in 2009, it proposes an initial fare of Rs 2 per km, taking the fare for the entire trip to around Rs 165. For the priority section, this would make the fare Rs 35.
However, with the passage of time there is a price variation because of rise in the input cost, inflation and other factors.