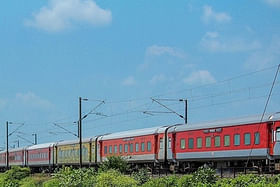 Indian Railways is aiming to achieve significant fuel savings to the tune of around 200,000 litre of diesel per day, by electrifying all pit lines on its network.
Quoting a senior government official, a report in ET said," The Railways will substitute fossil fuels with grid electrification at all 411 maintenance pits by December 2023. Of these, electrification of 302 pits has been completed."
A pit line serves as a location where train coaches undergo inspections for electrical malfunctions in equipments such as lights, fans and mobile charging points, prior to commencing their next journey.
An internal review of energy and cost efficiency conducted in 2022 uncovered that the maintenance of Linke Hofmann Busch (LHB) rakes at pit lines consumed approximately 184,000 litre of diesel daily.
This was because these LHB coaches required diesel generators to remain operational while electrical faults were being rectified, owing to the absence of power supply at pit lines.
As such, to cut down on diesel use, the decision was made to install 750 V power supply through grids at all LHB maintenance pits across the Indian Railways network.
In-line with Net Zero
The electrification of pit lines, a major source of diesel consumption, is a crucial component of the national transporter's goal of achieving net zero carbon emissions by 2030.
Indian Railways is working on mission mode to become the largest 'Green Railway' in the world and is moving towards becoming a "net zero carbon emitter" by 2030 , Union Railways minister Ashwini Vaishnaw had said in Lok Sabha in March 2023.
This commitment was reaffirmed by Prime Minister Narendra Modi as he laid the foundation stone for 508 'Amrit Bharat' stations earlier this week.
HOG System
The present LHB coaches have been designed to run on end-on-generation (EOG) system.
In the EOG system, the electrical load (i.e. load of lights, fans and air conditioning, pantry etc. referred to as "hotel load") in the LHB coaches are fed from the power cars having two diesel sets, placed at either ends of the rake.
The diesel-powered rakes have been incurring an annual recurring cost of over Rs 668 crore, expected to rise by 20 per cent due to diesel price inflation and an increase in the LHB fleet size. These factors underline the necessity of this shift.
However, the Railways is now installing head-on-generation technology in the LHB rakes, in which power is fed from the electric locomotive to the train to cater for the 'hotel load' of the train, and thereby, replace the existing power cars in the LHB rake.
As such, the electrification of pit lines will lead to huge savings in fuel bill thereby saving precious foreign exchange towards import of fuel.