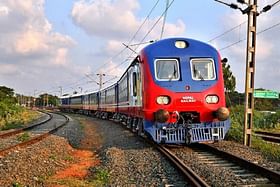 The first broad-gauge passenger railway service between India and Nepal has completed one year of operation and is running profitably, a media report has said.
The 35-kilometre railway extending from Kurtha, Nepal to Jaynagar, India, was virtually inaugurated by the then Prime Minister Sher Bahadur Deuba and his Indian counterpart Narendra Modi from Hyderabad House, New Delhi, India on 2 April 2022.
It began full commercial operation from the next day and has been making two round trips between its two destinations every day.
"We were greatly anxious at the start," Niranjan Kumar Jha, general manager of Nepal Railway Company Limited (NRCL), recounted his initial fears. "We were worried about whether we would get passengers or be able to make a profit". "Thankfully, these worries proved futile and now, the number of passengers is increasing daily".
He expressed happiness at being able to operate the train service successfully for a year and shared that the Railway Company's focus now was on making themselves self-sufficient.
The Jaynagar-Kurtha section is part of the 68.72 km Jaynagar-Bijalpura-Bardibas rail link, out of which 2.97 km is in India and 65.75 km is in Nepal.
Long History
The rail link between Nepal and India has been popular since the early 20 century.
In 1937, the British had built a narrow-gauge line named Nepal Janakpur Jaynagar Railway (NJJR) to ferry cargo, mainly timbers, from the then heavily forested areas of Janakpur in the Kingdom of Nepal to Jaynagar.
However, over time it became a popular passenger service before it was stopped in 2014 for conversion to broad gauge. By that time, the railway line used to cover 52 kilometre distance from Jaynagar to Bijalpura in Mahottari district in Nepal.
As part of this, New Delhi decided to construct a broad-gauge network between Jaynagar and Bardibas, including trains to operate on the link. Construction work on this project started in 2014 and the project work was expected to be completed by 2020.
As per the plan, the railway track for this project is being constructed in three phases.
Construction of the first phase of the project of 35-km that links Jaynagar and Janakpur/Kurtha was completed in 2019 and has been operational since April 2022.
While work on the second stretch of 17 km from Kurtha to Bijalpur is complete, for the remaining portion up to Bardibas, survey work is ongoing in the final segment.
The construction cost of Rs 784 crore for the entire stretch is being borne by India in the form of a grant to Nepal. This project is being undertaken by IRCON, a Public Sector Enterprise under Railways.
Jaynagar-Kurtha section
The passenger service between Jaynagar which is 4 Km from the Nepal border to Kurtha, has now connected the two countries via rail in addition to road and air links. It has also fulfilled a long-standing demand of the people on both sides of the border for resumption of cross border passenger train services.
The Jaynagar-Kurtha section consists of eight stations, Jaynagar in India, Inarwa (border station), Khajuri, Mahinathpur, Baidehi, Parwaha, Janakpur and Kurtha.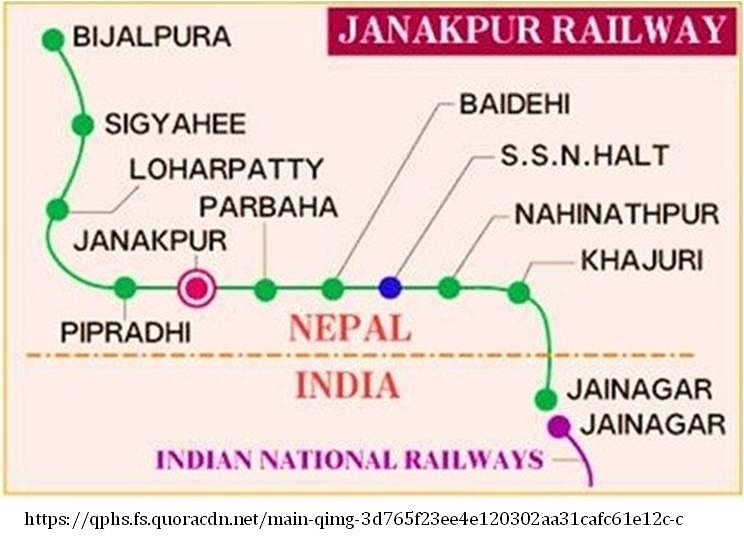 With the operation of Jaynagar-Janakpur section of the Nepal Railway, the religious tourism has received a boost as many people from India now have an opportunity to visit Janakpur which is 29 km from Jaynagar and happens to be the holiest among the holy places for the Hindu pilgrims of the world as Goddess Sita, wife of Lord Ram was born there.
In the Ramayan period in Treta Yuga some ten thousand years ago, Ram was married to Sita at Janakpur.
Ever since, each year hundreds of thousands of Hindu pilgrims visit Janakpur to pay homage to Goddess Sita and Lord Ram. Thousands of people throng in Janakpur on the occasions of Vivahapanchami in mid-December to commemorate the wedding day of Goddess Sita and Lord Ram.
Jaynagar-Kurtha rail link is the first of its kind as it enabled tourist train to cover the Ramayana Circuit in India and Nepal.
Using the Jaynagar-Kurtha rail link, Shri Ramayana Yatra "Bharat Gaurav" Tourist Train with 500 tourists reached Janakpurdham on June 2022. The tourists visited Janaki temple for Darshan, witnessed a cultural program in the premises of Janaki Temple, participated in Ganga Aarti and proceeded to Sitamarhi by road for the onward journey on the Ramayana Circuit route by Bharat Gaurav Train.
The Jaynagar-Kurtha rail link, though small, is part of a larger plan of deepening India's ties with Nepal through the Railways, bypassing the influence of other neighbouring countries in this strategically vital region.
Jogbani-Biratnagar Rail link
The Jogbani (India) – Biratnagar (Nepal) railway link is another broad gauge route being implemented with the technical and financial assistance of India.
The total length of the railway line is approximately 18.6 km with 5.45 Km in India (from Bathnaha, Bihar) and 13.15 Km in Nepal (up to Katahari, Morang).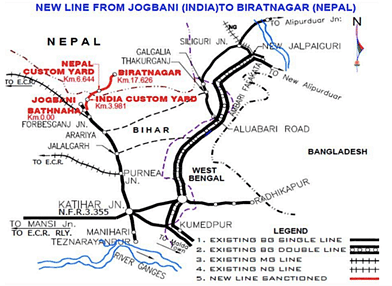 According to the latest status, the track of the 7.74 km section between Bathnaha and Nepal Customs Yard has been completed.
The government of Nepal is expected to shortly take over this rail segment. Work is ongoing in the remaining stretch.
Raxaul (India) – Kathmandu (Nepal) rail line
In April 2018, the Prime Ministers of India and Nepal had agreed to construct a newly electrified rail line connecting the border city of Raxaul in India to Kathmandu in Nepal. Accordingly, a Preliminary engineering-cum-traffic (PET) survey was completed and its report was shared with the Government of Nepal in May 2019.
On October 2019, the Nepalese government formally requested the Indian side to carry out a detailed survey of the chosen Alignment.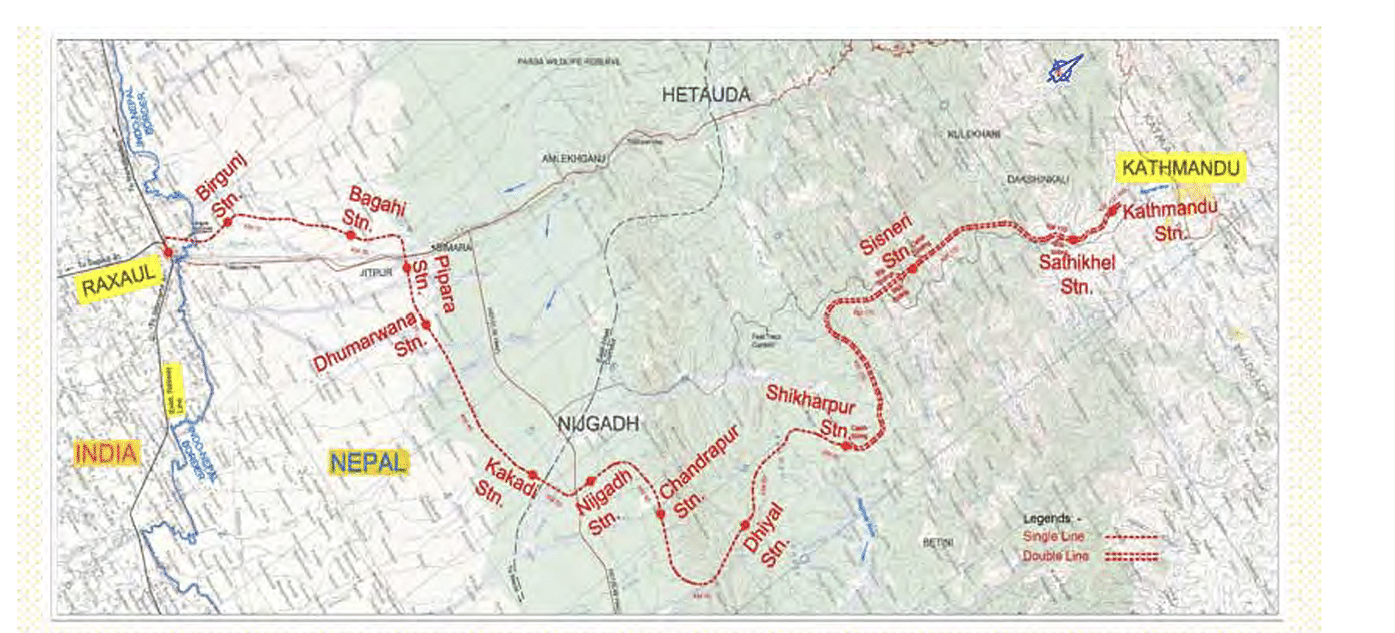 As the next step, the Ministry of Railways is undertaking a 'Final Location Survey' (FLS) of the proposed Broad Gauge railway line at a sanctioned cost of Rs 39.72 Crores. The contract for FLS has been awarded to Konkan Railway Corporation Limited (KRCL) with a completion period of 18 months. FLS work is completed and report finalization is underway.
When done, it will be a hill railway that will direct rail connectivity between Nepal's capital city and the Indian network, opening multiple avenues for cross-border movement.