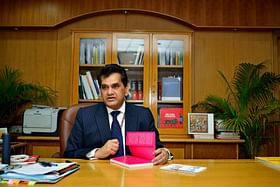 Former NITI Aayog CEO and G20 Sherpa Amitabh Kant, on Monday (17 July), addressed the World Resources Institute, India conference — 'Connect Karo 2023'.
Kant, explaining that the process of urbanisation in India has just begun, said that India, as it braces for rapid urbanisation, should not repeat the mistake of building 'cities for cars' like in the USA.
Addressing the conference, Kant said, "In the next five to six decades, we will see 500 million Indians getting into the process of urbanisation; 500 million means that we are to create two Americas and when that happens, we should not make the same mistake which the United States made. They made cities for cars and not for people. We need to create cities for people."
Kant stressed that urban planning has to be compact and dense. "It has to be walk to work, and it has to be based around public transportation," Kant said.
While public transportation has to be the basis of everything in cities, Kant disagreed with the philosophy of giving everything free to people.
"The minute you get things for free, people will not realise the value, you can charge low price for small distance travel and higher price costing for long distance transport," he said.
The G20 Sherpa also highlighted that the road transport undertakings are not well managed financially and these will become bankrupt, if passengers don't pay for the service. He said that Indians must pay for city infrastructure to ensure world class infrastructure.
Kant also lashed out at the Western world saying that, "While India had ambition, it did not carbonise the world, carbonisation happened when Western world was urbanising and manufacturing."
"In the United States, there are 1,100 cars for 1,000 people. In Europe, there are 900 cars with 1,000 people, in India there are only 22 cars per 1,000 people. So we did not carbonise the world. But we as a nation take the challenge of pushing ahead on all these things (decarbonise). But for being able to do that, our private entrapreneurs need long term financing," he explained.