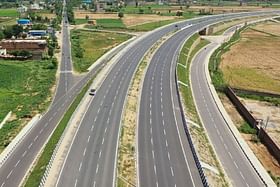 In a move that will further expand the expressway network of Uttar Pradesh, the Centre is working on 10 greenfield expressways and economic corridor worth Rs 1.38 lakh crore in the state.
This was announced by Union Minister for Road Transport and Highways, Nitin Gadkari on Monday (13 March) while laying the foundation of highway projects in Mahoba in Uttar Pradesh.
The construction of a project on a new alignment is categorised as a greenfield project.
The greenfield projects generally pass through new areas, wherein the per unit cost of land acquisition is generally less, considering less development in these areas.
Swarajya explains the proposed routes and the budget of the 10 expressways in Uttar Pradesh
1. Gorakhpur-Siliguri Greenfield Expressway
The six-lane, 520-km-long greenfield expressway runs from Gorakhpur in Uttar Pradesh to Siliguri in West Bengal via north Bihar.
Around 85 km of the expressway would pass through Gorakhpur, Deoria and Kushinagar districts in Uttar Pradesh, before entering Bihar where it will run for 416 km and end in West Bengal after covering a length of 19 km.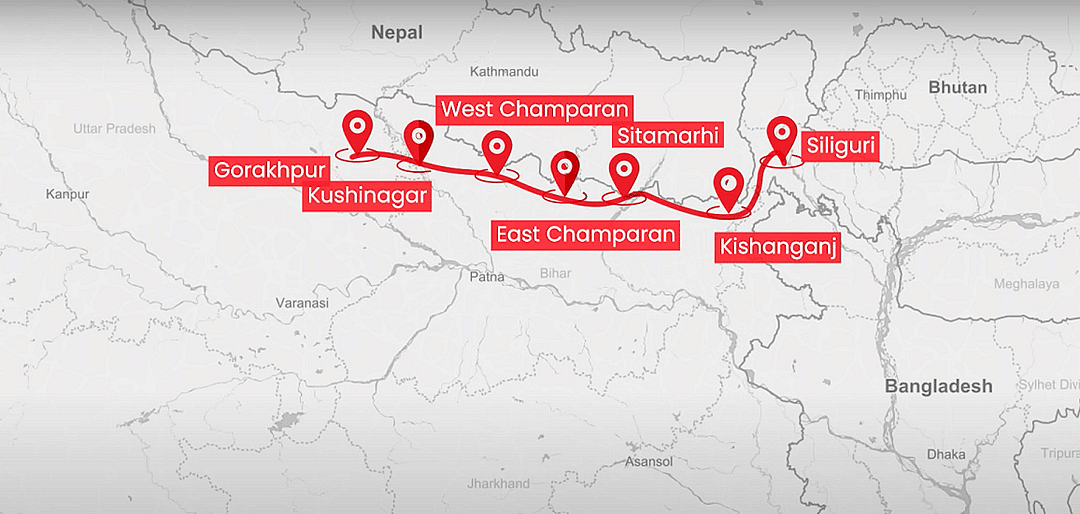 Being developed at a cost of Rs 25,000 crore, it will provide a direct link for outbound traffic from North East region towards northern India including the national capital, Punjab and Haryana.
The National Highways Authority of India (NHAI) has finalised the alignment for the expressway and work tender for the project shall be awarded in the next few months.
2. Gorakhpur-Shamli Greenfield Expressway
The 840-km-long expressway will connect Gorakhpur in eastern Uttar Pradesh with Shamli near Saharanpur in West UP.
It is proposed to pass through Gorakhpur, Bahraich, Balarampur, Ayodhya, Sitapur, Shahjahanpur, Amroha, Muzaffarnagar and Meerut before terminating at Shamli.
The project will be taken up under Phase-2 of Bharatmala Pariyojana at an estimated cost of Rs 35,000 crore.
 The greenfield alignment will have a spur connection to Delhi-Meerut expressway, Delhi-Dehradun expressway and Gorakhpur-Siliguri expressway. 
3. Varanasi-Kolkata Expressway
The six-lane, 620 km Varanasi-Kolkata expressway connects Chandauli in Uttar Pradesh, Ranchi in Jharkhand, and Howrah (Kolkata) in West Bengal.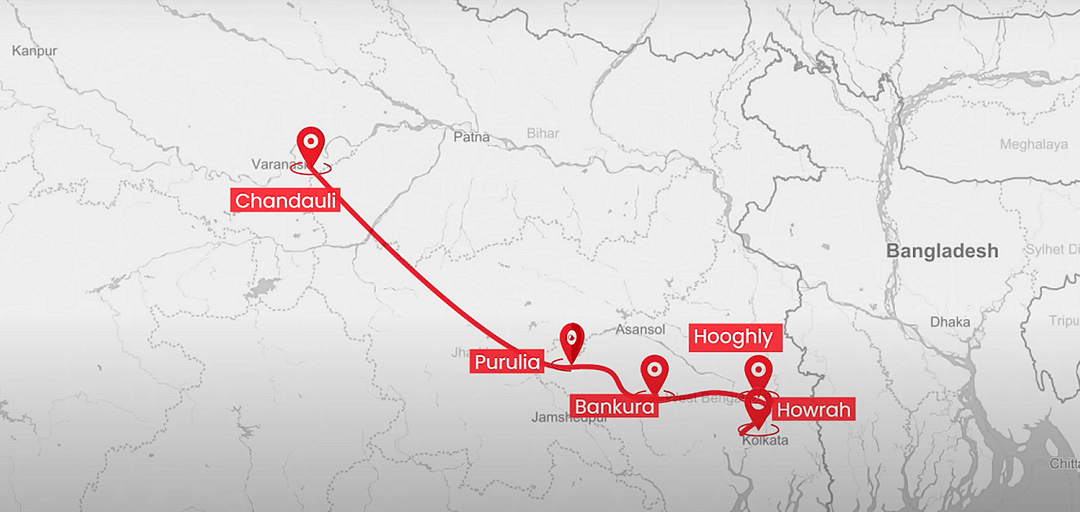 Covering a distance of 22 km in UP, 159 km in Bihar, 187 km in Jharkhand and 242 km in Bengal, the e-way has been planned to provide high-speed connectivity to the northern and eastern regions of the country.
The project will enhance the connectivity for the entire eastern India and has an estimated budget of Rs 22,000 crore.
The NHAI has received bids from 15 firms for eight packages for the civil construction work of the Varanasi-Kolkata expressway. 
4. Varanasi-Aurangabad-Chordaha Economic Corridor
 Starting near Varanasi, the six-lane (expandable to eight-lane) economic corridor passes through Aurangabad in Bihar before ending at Chordaha on Bihar-Jharkhand border.
The 262-km-long economic corridor is part of GT Road and will be extended to Dhanbad in Jharkhand.
With an estimated cost of Rs 5,000 crore, the NHAI has targeted to completed the stretch till Chordaha by December 2023.
 5. Ghazipur-Ballia-Manjhi Ghat Greenfield Link Expressway
 The 135-km-long Ghazipur-Ballia-Manjhi Ghat greenfield expressway will connect Ballia in eastern UP with Purvanchal Expressway.
The four-lane link expressway will traverse through Ghazipur and Ballia before terminating at Manjhi Ghat in Bihar.
The people of Ballia and Bihar will get benefitted as the travel time to reach Delhi, Lucknow or Patna will reduce drastically after the completion of the Ballia Link Expressway project.
Union Road Transport Minister Nitin Gadkari laid the foundation stone for the Rs 5,311 crore project on 27 February which is expected to be completed by 2024.
6. Kanpur-Lucknow Greenfield Expressway
Being constructed at a cost of Rs 5,000 crore, the Kanpur-Lucknow Expressway is a 62.74-km-long access-controlled road connecting Kanpur and Lucknow.
The six-lane (expandable to eight) expressway will run parallel to NH-27 between Kanpur and Lucknow with a distance of about 8.5 km between existing and proposed parallel roads.
The expressway will bring down the travel time between two largest cities of Uttar Pradesh to mere 35 minutes.
NHAI has already awarded the contract for the project and has targeted to open the expressway by May 2024. 
7. Chambal Expressway
 The 415-km-long Atal Progressway is a six-lane expressway connecting Kota in Rajasthan to Etawah in Uttar Pradesh via Sheopur, Morena and Bhind districts in the state of Madhya Pradesh.
The Rs 15,000 crore project starts from NH-27 in Seemalya Village in Kota district, Rajasthan and ends at Ninawa village in Etawah district in the state of Uttar Pradesh. The lion's share of the greenfield expressway, at nearly 300 km, will pass through Madhya Pradesh.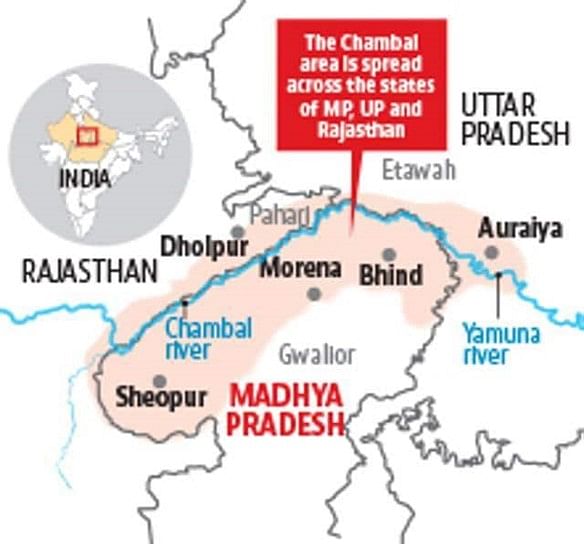 The NHAI has invited bids for more than 300 km length of the expressway. The tenders for the remaining length of the expressway are under progress and expected to be released in next few months.
Also called "Chambal Expressway", it will enhance economic development in the area otherwise known for ravines, semi-arid land and a dark history of legendary brigands and lawlessness.
The expressway running along the Chambal River will connect with Bundelkhand Expressway and Agra-Lucknow Expressway at Etawah and the upcoming Delhi-Mumbai Expressway (DME) at Kota.
8. Agra-Gwalior Greenfield Highway
 The Agra-Gwalior Expressway is a proposed 85 km long six-lane access-controlled greenfield highway connecting Gwalior with the Taj City.
Starting at Yamuna Expressway link in Agra, the expressway will traverse through Shamsabad in Uttar Pradesh, Dholpur in Rajasthan, Morena in Madhya Pradesh before ending at Gwalior by-pass.
The construction of Rs 2,500 crore greenfield expressway, which will be connecting to Delhi as well, will commence this year. 
9. Delhi-Dehradun Economic Corridor
 The Delhi-Dehradun Economic Corridor is a six-lane, 210 km highway which will cut down the travel time between the national capital and Dehradun to just 2.5 hours from 6 hours at present.
Starting at Akshardham in Delhi, the alignment runs through Eastern Peripheral Expressway (EPE) Junction and Baghpat, Shamli, Saharanpur, Muzaffarnagar in Uttar Pradesh before ending at Dehradun in Uttarakhand.
Work on the Rs 12,000-crore project will be over by December end and is expected to open for vehicular traffic from 1 January next year.
 It will also make the commute to the holy city of Haridwar easy for travellers due to two additional spurs: 50.7-km-long 6-lane Saharanpur-Roorkee-Haridwar Expressway and 101 km six-lane Ambala-Gangoh-Shamli Expressway. 
10. Bhopal-Kanpur Economic Corridor
 The 411 km, 6-lane economic corridor has an estimated cost of Rs 11,300 crore and will reduce the travel time between Bhopal and Kanpur from the present 15 hours to nine hours.
With the construction of this corridor, connectivity from Bhopal to Kanpur, Lucknow, Prayagraj, Varanasi will be good.
The Bhopal-Kanpur Economic Corridor via Vidisha and Sagar will also make easier the transportation of cement and minerals and reduce the logistics cost.