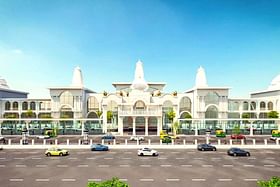 Prime Minister Narendra Modi is scheduled to inaugurate the groundbreaking ceremony for the highly-anticipated Gorakhpur Railway Station redevelopment project.
With a cost of approximately Rs 498 crore, the aim of this project is to transform the station into a world-class facility.
The redevelopment of the station will showcase the city's cultural heritage and provide a stunning view of the revered Gorakhnath temple. This inauguration ceremony is set to take place on Friday (7 July) and will be attended by esteemed dignitaries and local residents.
The Gorakhpur Railway Station has long been in desperate need of modernisation, with a staggering daily footfall of around 93,000 passengers.
The extensive development plans for the station have been carefully designed to meet the needs of the next 50 years, envisioning a future where an estimated 168,000 passengers will pass through the station every day.
During the momentous inauguration, Prime Minister Modi will also flag off the Vande Bharat Express, the North Eastern Railway's first semi-high-speed train. This remarkable train will commence its inaugural journey at 3.40 pm, heading towards Lucknow. From Sunday (9 July) onwards, the Vande Bharat Express will operate six days a week, bringing a new era of connectivity and convenience for passengers.
The Gorakhpur Railway Station has been revamped to include a roof plaza above the platforms, allowing for a unique retail and culinary experience while trains operate below. Visitors can enjoy shopping and dining in this captivating space.
Travellers will be pleased to find a wide range of shopping malls, restaurants, and entertainment facilities available at the station. Modern escalators have been installed to ensure easy access to all platforms, catering to passengers of all ages and abilities.
To improve convenience for arriving passengers, a flyover will be built from the northern gate, providing direct access to platforms nine, eight, and seven. This addition will reduce congestion and create a smoother flow of travellers, enhancing the overall experience, reports Economic Times.
Gorakhpur is the gateway to eastern India. The proposed mandatory railway re-development and residential development at Ramgarh Tal Colony and the construction of railway quarters at Bauliya Colony is a great opportunity for the developers to invest in prime property in Gorakhpur. This will also lead to employment generation for the local population.