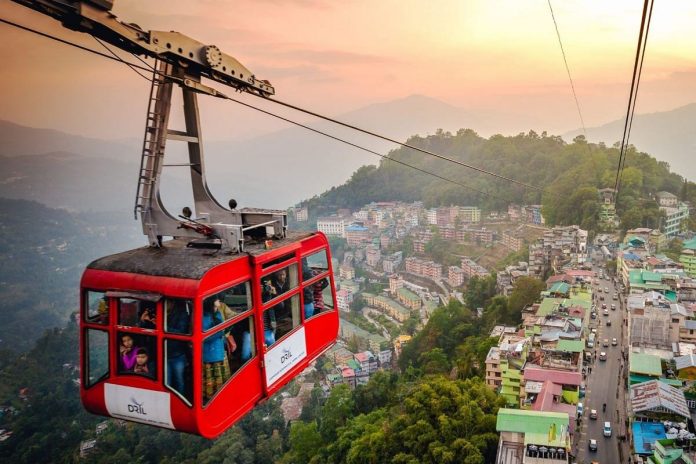 Almost a year after the foundation stones for two ropeways in Uttarakhand — Gaurikund-Kedarnath and Govind Ghat-Hemkund Sahib — were laid, the Centre has again bid them out for development.
Though earlier bids were floated and one private player had emerged as the lowest bidder, the tender could not be awarded.
Prime Minister Narendra Modi had laid the foundation stone for these two projects in October last year. The two project form part of the Centre's ambitious "Parvatmala Pariyojana", which aims to use ropeway to improve connectivity and convenience for commuters, besides promoting tourism.
As per the new tender, the 9.7-km Gaurikund-Kedarnath ropeway project will be built at an estimated cost of Rs 1026.44 Crore and the 12.44-km Govind Ghat–Ghangaria–Hemkund Sahib ropeway project will be built with a budget of Rs 942.24 crore.
The ropeway to Kedarnath, will be built at an altitude of 11,500 feet above sea level and will significantly reduce the time taken by pilgrims to reach the shrine in Rudraprayag district. Once completed, pilgrims and tourists can reach Kedarnath from Gaurikund in only about 30 minutes. Currently, it takes 6-7 hours.
The proposed ropeway to Hemkund Sahib will reduce the travel time to about 45 minutes. This ropeway will also connect Ghangaria, which is the gateway to Valley of Flowers national park. The way from Govindghat to Hemkund Sahib is a 19 km steep and tough foot track and takes about 12 hours to reach the shrine.
Both the projects are proposed to be developed on design, build, operate and transfer (DBOT) basis, with a completion time of 60 months (five years).
The National Highway Logistics Management Limited (NHLML) — a 100 per cent-owned special purpose vehicle of the National Highways Authority of India (NHAI), has been assigned the responsibility to develop these two ropeway projects.