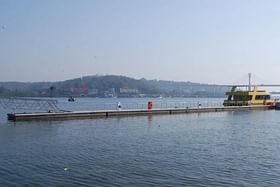 These developments are envisioned to enhance opportunities for water tourism, waterways for regional trade, and employment creation across related industries throughout the regions.
The Ministry of Shipping and Waterways has sanctioned seven floating jetties under the Sagarmala Programme.
The planned jetties will be located on the Netravathi and Phalguni (Gurupura) rivers, as part of supporting the waterways industries in the state and country.
The Ministry has approved the projects with 100 per cent funding of the estimated cost of Rs 26 crore. The projects are located at:
Sulthan Bathery,
Bandaru ferry,
Sandpit Bengre,
Northern Sandbar,
Old Port,
Jeppinamogaru Old Ferry, and
Kasaba Bengre
Under the Sagarmala Project, the Ministry of Ports, Shipping and Waterways (MoPSW) has taken major initiatives to endorse the idea of floating jetties.
The establishment of these jetties will address the needs of fishing and tourism related operations, and will serve as an alternative to country's over-crowded small harbours.
Rural areas stand to gain the most from the improved regional infrastructure which will support the local economic activities.
Additionally, these developments are envisioned to enhance opportunities for water tourism, waterways for regional trade, and create employment across related industries throughout the regions.
As per a statement by Sarbananda Sonowal, Minister for Port, Shipping and Waterways, there are 27 projects in Karnataka worth Rs 1,428 crore out of which total funds sanctioned from Sagarmala for these projects is Rs 611 crore.
As of now, three projects worth Rs 70 crore have been successfully completed. 18 projects worth Rs 650 crore have been sanctioned for Karnataka Maritime Board.
As per PIB report, the MoPSW has successfully implemented a few pilot projects in the recent past by following the international guiding principles.
These include setting up of passenger floating jetties in Goa, water-aerodromes at Sabarmati River and at Sardar Sarovar Dam for the seaplane services.
These developments are yielding the best results and similar projects of the Ministry are under various stages of development all along the coastline of Karnataka, for overall development and upliftment of the coastal community.
The Sagarmala Programme was approved by the Union Cabinet in 2015 which aims at holistic port infrastructure development along the 7,516-km long India's coastline.
The project is aimed to increase India's merchandise exports to USD 110 billion by 2025 and create an estimated 10 million new direct and indirect employment.
The vision of the projects includes: modernisation, connectivity enhancements and new development of ports; port linked industrialisation; coastal community development, and promoting coastal shipping and inland waterways transport.