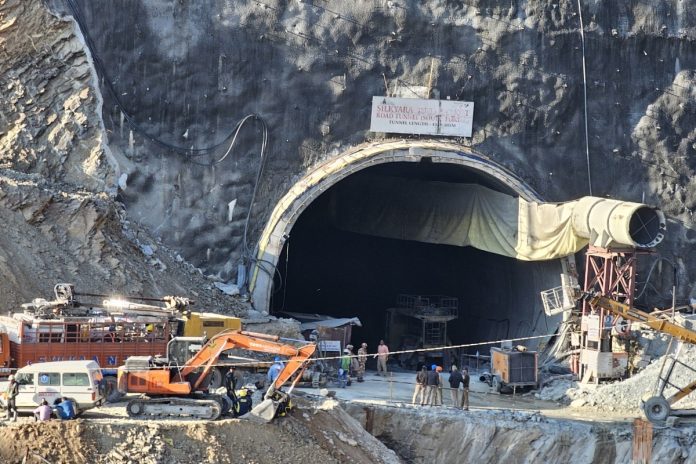 Following nearly 70 hours of relentless rescue operations for 40 workers trapped beneath the debris of an under-construction tunnel that collapsed in Uttarakhand's Uttarkashi district, authorities are optimistic that they can evacuate all trapped individuals by today.
However, a new landslide on Tuesday hindered the rescue efforts, as falling debris created a chaotic situation akin to a stampede, injuring two workers.
Uttarkashi district magistrate Abhishek Ruhela informed the mediapersons earlier that if the operations proceed according to plan, the evacuation of the trapped workers should be completed by Wednesday.
More than 160 personnel from the National Disaster Response Force (NDRF), State Disaster Response Force (SDRF), Border Roads Organisation (BRO), and Indo-Tibetan Border Police (ITBP) are racing against time to rescue the trapped workers.
The 40 workers were trapped inside the tunnel under construction, which collapsed on Sunday due to a landslide.
This tunnel on the Brahmakhal-Yamunotri National Highway, joins Silkyara and Dandalgaon in Uttarkashi and is expected to cut down the distance by 26 km.
Evacuation strategy: How will the workers be rescued?
The rescue team has brought eight pipes, each with a diameter of 900 millimetres (nearly 3 feet) and a length of six metres, along with five pipes of 800-millimetre diameter of the same length, all made of mild steel, to the site.
The strategy involves sequentially inserting these pipes into the debris using drilling machinery to forge a passage for the workers' escape."
The pipes will be inserted through the debris of the collapsed 30-metre section, which is 270 metres away from the tunnel's entrance on the Silkayara side.
The method used for inserting the pipes is known as shotcreting, which involves spraying concrete onto the debris to stabilize the loose material.
A hydraulic jack will be employed to forcefully drive the pipes through the debris.
The drilling operation began on Tuesday using an auger machine, and for the past two days, excavators have been clearing the debris along the way.
A specialised team of five engineers from the irrigation department is present at the location to supervise the process of inserting the mild steel pipes through the debris, as reported by the State Emergency Operation Centre."
Condition of Trapped Workers
The condition of workers inside the tunnel is reported to be stable.
Communication has been maintained with the trapped workers, and the knowledge that a large-scale rescue effort is underway by various agencies has bolstered their spirits.
On Tuesday, the workers informed Uttarakhand's SDRF commandant, Manikant Mishra, that they were "doing well".
The son of Gabbar Singh Negi, who is among the trapped workers, had a brief conversation with him on Tuesday.
"He said they are safe. He asked us not to worry," he told PTI.
However, one of the trapped workers was feeling nauseous and medicines were supplied for him.