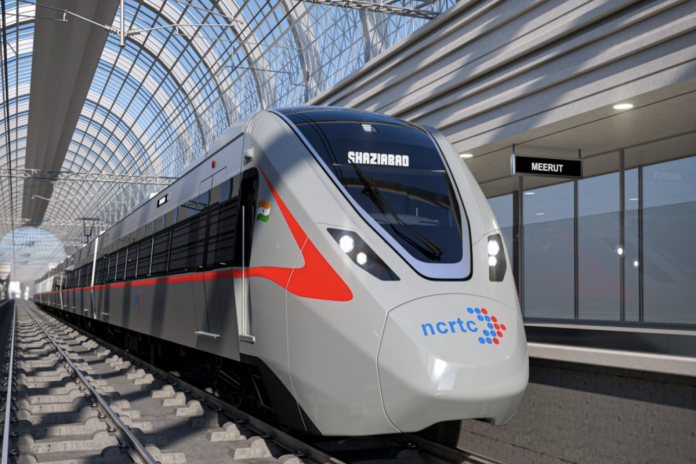 Prime Minister Narendra Modi today (20 October) inaugurated the 17-km-long priority section of the Delhi-Ghaziabad-Meerut Rapid Rail Transit System (RRTS) corridor.
The launch of the country's maiden intercity rapid rail from Uttar Pradesh's Sahibabad, marks the beginning of a new era in regional rail connectivity in India.
Here are 10 things you need to know about this high-speed regional rail service, that will help one travel from Delhi to Meerut in just 60 minutes.
1. The RRTS is a new rail-based system with a designed speed potential of 180 kmph and operational speed potential of 160 kmph, making them semi-high speed train sets.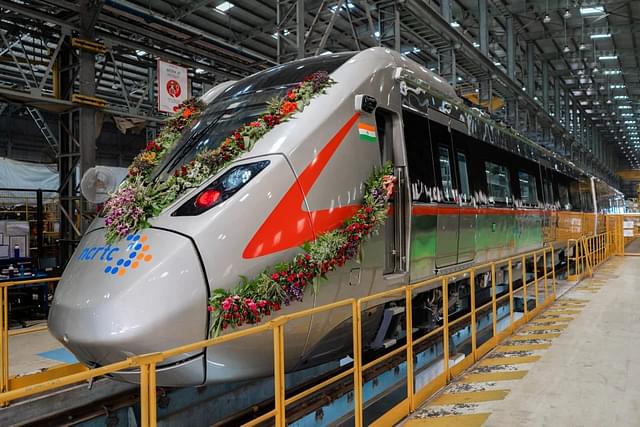 The initiative, is designed to provide high-speed trains for intercity commuting every 15 minutes, which can go up to a frequency of every five minutes according to requirement.
With an average speed of 100 kmph, these indigenously manufactured trains will be much faster than the Delhi Metro and the Indian Railways' trains.
2. The 82-km-long Delhi-Meerut corridor is one of the three priority corridors planned for implementation in the the National Capital Region (NCR) in the first phase.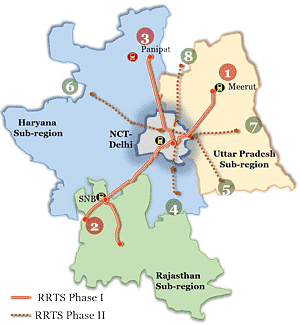 The other two corridors include the 198-km stretch of Delhi-Gurugram-SNB (Shahjahanpur-Neemrana-Behror Urban Complex)-Alwar and the 103-km Delhi-Panipat stretch.
In the next phase(s), five additional lines will be developed. These are Delhi–Faridabad–Ballabgarh-Palwal, Ghaziabad–Khurja, Delhi- Bahadurgarh-Rohtak, Ghaziabad-Hapur and Delhi-Shahdara-Baraut.
3. The Rs 30,274 crore RRTS corridor from Sarai Kale Khan in Delhi to Meerut in Uttar Pradesh encompasses 25 stations, with three in Delhi, eight in Ghaziabad, and the remaining in Meerut.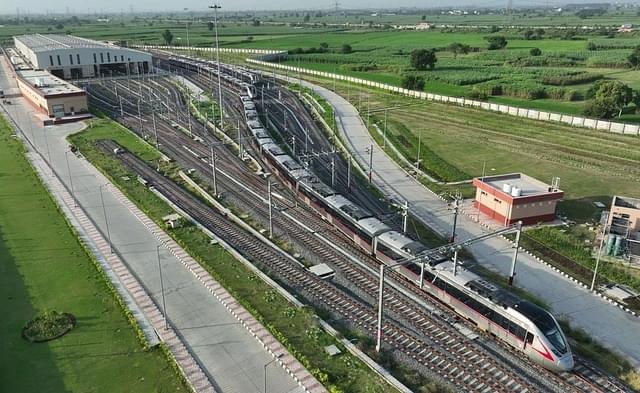 The 17-km priority section in Ghaziabad, with five stations — Sahibabad, Ghaziabad, Guldhar, Duhai and Duhai Depot is slated to be opened for passengers on 21 October, a day after its inauguration.
The foundation stone for the project was laid by Prime Minister Modi on 8 March 2019. The entire corridor is targeted to be commissioned by June 2025 and will reduce the current time taken between Delhi and Meerut from three hours to less than one hour.
4. Four urban centres around the National Capital Region (NCR) — Sahibabad, Ghaziabad, Modinagar and Meerut will connect with Delhi with transportation at higher speed via the RRTS corridor.
The regional rail will lead to balanced development in areas around Delhi and enable significant reduction in congestion and pollution in the national capital.
5. Trains of the RRTS will be known as 'NaMo Bharat'.
Earlier in April, the National Capital Region Transport Corporation (NCRTC), which is implementing the project had named RRTS trains as 'RapidX.
6. Each air-conditioned train set will have six coaches with seats in the two-by-two configuration. Five of these will be standard coaches and one will be premium.
Of the five standard coaches, one will be reserved for women and it is the coach next to the premium coach.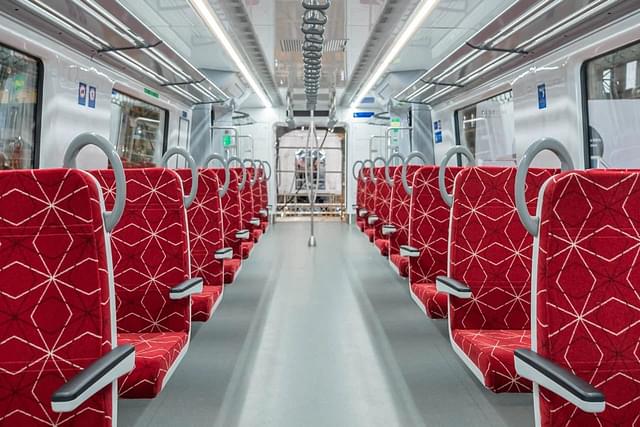 Premium coaches have a seat with a different colour code, a provision for installing a vending machine in future, besides a host of additional commuter-centric features like reclining seats, coat hooks, magazine holders and footrests.
Entry to a premium coach will be accessible only through a premium lounge on a platform. A train attendant will be stationed in the premium coach to assist the commuters in need.
7. In a major push to sustainability, the Delhi-Meerut RRTS will tap solar energy by installing 25,000 solar panels at its stations and two major depots in Duhai and Modipuram.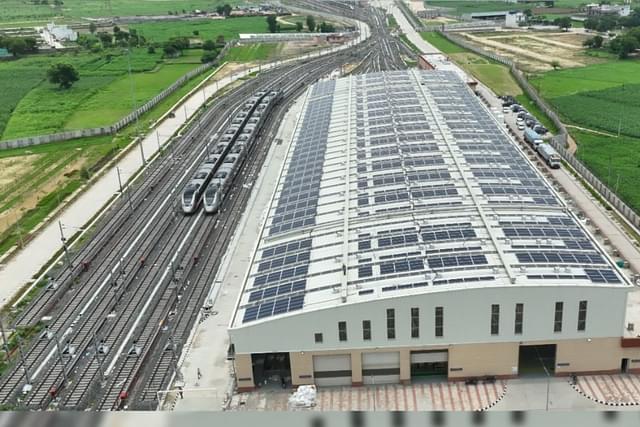 Solar plant at Duhai Depot
8. Inspired by the national bird, the RapidX stations will sport the blue and beige colour spectrum of the peacock feather.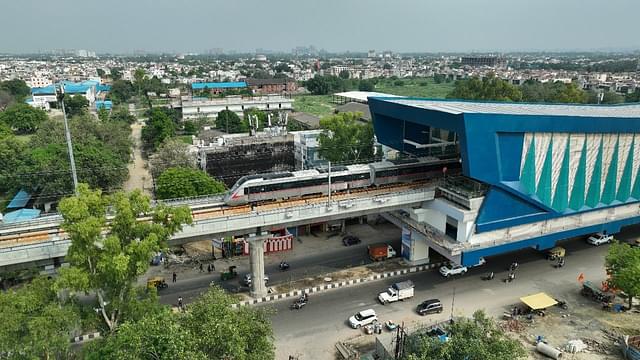 While exterior roofs of its stations are designed to be curved on both sides to depict the speed, which is one of the main characteristics of trains running on the network, beige-coloured perforated panels have been installed for the wall of the stations.
Beige-coloured louvres have also been installed along the railings which ensure uninterrupted flow of air in the station, the NCRTC stated.
9. The RRTS design philosophy has taken a major stride towards passenger safety and convenience.
Given the high-speed train operations, all RRTS stations will have Platform Screen Doors (PSDs) for safety of the passengers. The train doors will be integrated with PSDs.
For the convenience of the commuters, provision has been made for drinking water, washroom facilities and a room equipped with a 'diaper-changing station' has been made at the concourse level of every station.
Dedicated tactile paths have been created to aid hassle-free movement of visually challenged person and show them the shortest possible route to key areas in the station.
10. The project is a brilliant showcase of domestic manufacturing with, trainsets and high-speed ballastless tracks being developed in the country under 'Make-in-India' initiative.
The state-of-the-art RRTS rolling stock is being manufactured at Bombardier's Savli plant in Gujarat.
NCRTC will procure 30 train sets of six cars each for operating regional rail services on the entire corridor and 10 train sets of three cars each for operating local transit services in Meerut.
Similarly, the NCRTC is using precast track slab technology to produce high-capacity ballastless track slabs, at a factory in Shatabdi Nagar in Uttar Pradesh's Meerut, that have a longer life cycle and require less maintenance.