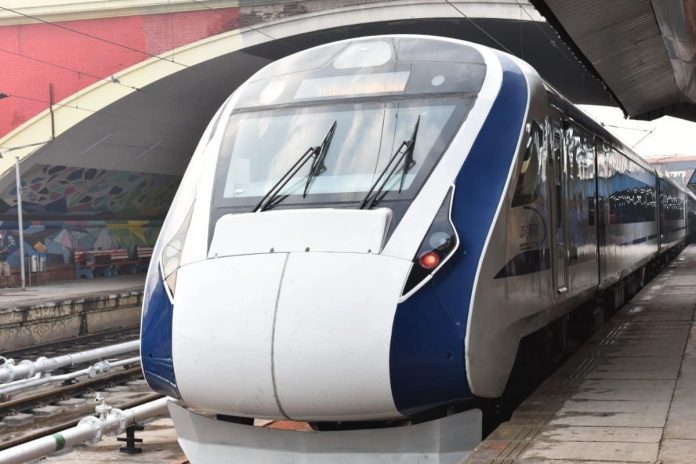 Snapshot
Indian Railways is manufacturing semi high-speed freight trains which can run at 160 kmph against the present freight train's top speed of mere 75 kmph.
To augment its freight market share from the current 28 per cent to 40 per cent by 2030, Indian Railways plans to roll out semi high-speed freight trains based on the successful Vande Bharat platform.
While the present freight trains consist of around 45 wagons and run with a top speed of just 75 kmph, the new freight rakes would have just 16 wagons and run at 160 kmph.
Though the new 'Vande Bharat' freight train is estimated to cost Rs 60 crore, three times a standard freight train, Railways is keen to deploy the new freight trains on busy routes to carry goods of e-commerce companies.
According to The Economic Times, the new freight train is being built at Chennai's Integral Coach Factory with a target to launch 25 such trains.
"As the new freight trains will run on Railways' most lucrative routes connecting the metros and other big cities in a time-tabled manner, our target will be to carry parcels of companies such as Amazon and Flipkart. With this train, the Railways will be about 2.5 times faster than road carriers, and in certain sectors, we will even compete with air cargo carriers," an officer said.
'Vande Bharat' semi-high speed trains rolled out by Indian Railways have succeeded, and the union government plans to expand the service rapidly.
Indian Railways has floated tenders inviting major rolling stock players to manufacture 200 Vande Bharat trains with AC sleeper facilities at an estimated Rs 26,000 crore.
Currently, two indigenised semi-high speed Vande Bharat train sets are operational, while the railways have awarded contracts for 102 Vande Bharat trains with seating capacity.