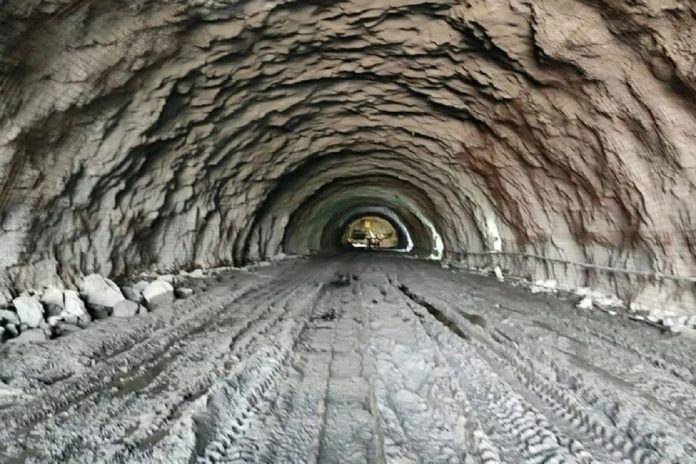 With the completion of 1,000 metres underground excavation of Wavarle Tunnel on Panvel-Karjat new suburban corridor, it is on the way to become the longest tunnel on Mumbai suburban network.
According to the Central Railways, 1,000 metres of the underground excavation of 2,625 metres of Wavarle Tunnel on Panvel-Karjat new suburban corridor completed on 6 September 2023.
This will be the longest tunnel in Mumbai suburban network on completion. The inaugural blast at both portals of this longest tunnel was done on 22 February 2023.
The Panvel-Karjat railway project is taking shape under MRVC's Mumbai Urban Transport Project 3 (MUTP-3) with three tunnels of a total length of 3,144 metres have been planned.
While the Nadhal Tunnel which is the main Tunnel 1 is of 219 metres, the Wavarle Tunnel which is Tunnel 2 is of 2,625 metres.
Kirawali Tunnel, the Tunnel 3 is of 300 metres, and all these three are under construction as part of this project.
For Nadhal Tunnel, the work started on 21 October 2022 and the breakthrough was achieved on 10 May 2023. Presently, the work of water proofing and concrete lining are under progress.
The biggest challenge in the execution of excavation work at this tunnel was its proximity to the existing tunnel of Panvel-Karjat single line, which requires the work to be carried out under much stricter safety restrictions.
In Wavarle Tunnel, the work started with inaugural blast at both portals P1 and P2 of longest tunnel on Panvel-Karjat suburban project which is Main Tunnel-2 (Wavarle Tunnel) of 2,625 metres on 22 February 2023.
The underground excavation for the this tunnel was completed for 1,002 metres on 6 September 2023.
The tunnel is primarily supported by rock bolting, wiremesh and shotcrete and it will be provided with permanent waterproof concrete lining.
The track structure inside these tunnels will be on ballastless track. Adequate public refuge areas, tunnel control system, lighting system and ventilation systems are being constructed on par with contemporary international standards.
With provision of adequate lighting, ventilation and dewatering arrangements at site the work on the proposed Panvel-Karjat suburban corridor's tunnel sites is running smoothly.