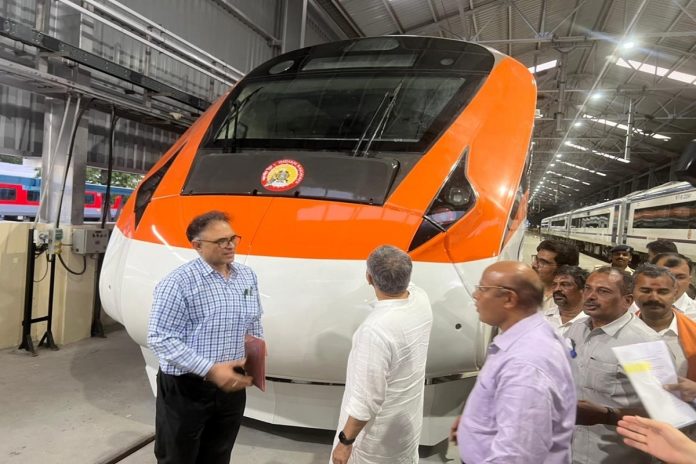 The thirty-first Vande Bharat train getting ready at Integral Coach Factory at Chennai, is slated to be the first orange colour semi-high speed express in the country.
The orange colour Vande Bharat train is expected to be unveiled at the Chennai production unit on 19 August.
While there are 25 Vande Bharat trains running across the country, four more such rakes are awaiting green signal to be pressed into service this month.
However, the manufacturing process of two more Vande Bharat trains is in advance stage, out of which the thirty-first rake will be made as per the new colour code.
Inspired by the Indian national flag, the new Vande Bharat train will roll out in a colour combination of saffron with stripes of green on doors and body. The front portion of the driver cabin will have a strong exhibition of orange to make it more aesthetic and eye-catching, according to the Indian Railways.
The destination of orange colour Vande Bharat train is to be decided soon. Four Vande Bharat trains including two from Chennai and one each from Patna and Bangalore, are expected to be flagged off this month.
As per the plan, Patna-Howrah, Kacheguda-Yeshwanthpur, Chennai-Vijayawada and Chennai-Tirunelveli routes will have Vande Bharat trains shortly. All these trains will are eight-coach each.
According to the Indian Railways, Rs 1,343.72 crore has been utilised by the national transporter for manufacture of Vande Bharat trains.
India's first-ever indigenously designed and manufactured semi-high speed Vande Bharat train has provided a modern and comfortable rail travel experience to passengers.
High speed, enhanced safety standards and world class service are the hallmarks of this train.
Equipped with automatic doors, Vande Bharat trains have faster acceleration and can speed up to 160 kmph.
The train has better riding comfort with reclining ergonomic seats and comfortable seating, with revolving seats in executive class.
With facility of mobile charging sockets for every seat, the train has a mini pantry with provision of hot case, bottle cooler, deep freezer and hot water boiler in the train.
Besides, there is provision of emergency windows, fire extinguisher and CCTVs in each coach.