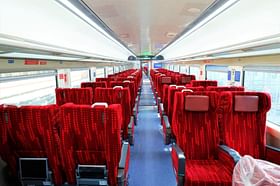 With the dual aim of increasing the Vande Bharat trains across the country and also connecting tier-two cities like Jalandhar with Ludhiana or Coimbatore with Madurai, the Railways has decided to roll out a shorter version, eight-coach Vande Bharat rake for which a prototype is being made at ICF.
The first such eight-coach Vande Bharat is slated to roll out in March-end this year as the design for the mini-Vande Bharat Express with seating arrangement is almost final.
While the 16-coach Vande Bharat train is estimated to cost Rs 134 cr, the eight-coach is likely to cost around Rs 70 cr.
With the mini-Vande Bharat rake concept, the crisis of wheels can also be managed to some extent.
Since the launch of Vande Bharat express in 2019, there is a growing demand for the train from every state and zone.
The number of coaches can be augmented from 8-12 coaches if there is an increase of passengers. It can be further increased to 16 to cater to growing demand of passengers.
The 20-24 coach Vande Bharat is slated to be only for sleeper trains as opposed to chair cars.
In a letter to the ICF GM, the Railways Board has said "It has been decided to manufacture Vande Bharat rake of 8 car composition as a Proof of Concept which can be further upgraded to 12/16/20/24 car formation also."
The letter further stated "The exact configuration of the rake will be decided as per traffic demand and based on POC results. ICF and RDSO are advised to take necessary for turning out the first 8 car rakes at the earliest."
Currently, the semi-high speed train consists of 16 coaches and eight such trains are operational.
Explaining the basic concept of the train, a senior Railway official said Vande Bharat is not a loco-hauled train as it is run on distributed power systems. Here the basic unit consists of four-coaches only. So one can go for two units which is 8-coach train and similarly it can be increased to three units, four units or five units train as per the traffic demand with changes in software.
The passenger facility remains the same like the 16-coach train and also the speed remains dynamic for all these categories.