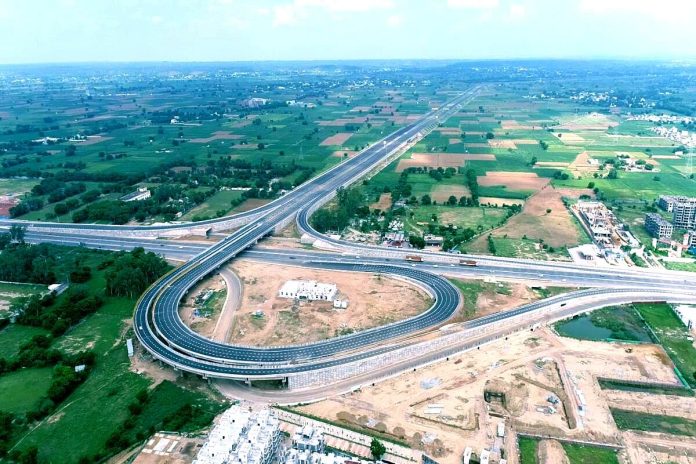 The barrier along the 18 km stretch of the Delhi-Mumbai Expressway aims at mitigating dust pollution, and safeguard the Aravalli region.
Starting in October of this year, authorities and a non-governmental organisation (NGO) will collaborate on a project to establish a lush barrier along an 18 km stretch of the Delhi-Mumbai Expressway that traverses Faridabad.
Forest department officials recently announced that the main objective is to mitigate dust pollution and safeguard the Aravalli region adjoining the high-speed roadway, according to Times of India report.
Back in 2019, a substantial number of trees, estimated to be in the range of 30,000 to 40,000, were felled during the construction of the expressway in Faridabad.
Officials have since submitted a proposal for a memorandum of understanding (MoU) to the state government for approval, after which they can partner with the NGO, 'Save Aravalli'.
The work on this initiative is expected to commence in October and could span approximately six months.
Raj Kumar, the divisional forest officer in Faridabad, stated, "We will start fencing and planting trees and plants on the left side of the Delhi-Mumbai Expressway in Faridabad, where the patch of Aravalli Forest is. Save Aravalli will also work along with us to conserve the area."
Additionally, the department has outlined plans for a tree-planting campaign spanning a 20-acre area adjacent to the expressway.
Kumar explained, "The area is a strip forest. The project aims at improving soil indices, water table and ecosystem. It will also go a long way towards boosting wildlife. We will carry out plantation and fencing as well,", as per the TOI report.
The department will install rainwater harvesting structures, enhancing soil fertility and preventing erosion. This green vegetation barrier will also reduce dust pollution from passing vehicles.
The rapidly expanding National Capital Region (NCR) cities, such as Gurgaon and Faridabad, are particularly susceptible to dust pollution, primarily attributed to the construction sector.
According to a study, a significant portion of pollutant PM10 in Delhi's air results from dust particles, accounting for 41 per cent.
Jitender Bhadana, representing Save Aravalli, emphasised their commitment to clearing debris along the road and their overarching goal of preserving the region's biodiversity.
The Delhi-Mumbai Expressway, spanning a remarkable 1,386 km and estimated to cost over Rs 1 lakh crore, is poised to become India's longest expressway and one of the fastest constructed globally.
The expressway passes through Delhi, Haryana, Rajasthan, Madhya Pradesh, Gujarat and Maharashtra.
Once completed, it is expected to halve the travel time between Delhi and Mumbai from the current 24 hours to just 12 hours, opening up new economic opportunities and fostering growth in the surrounding areas.