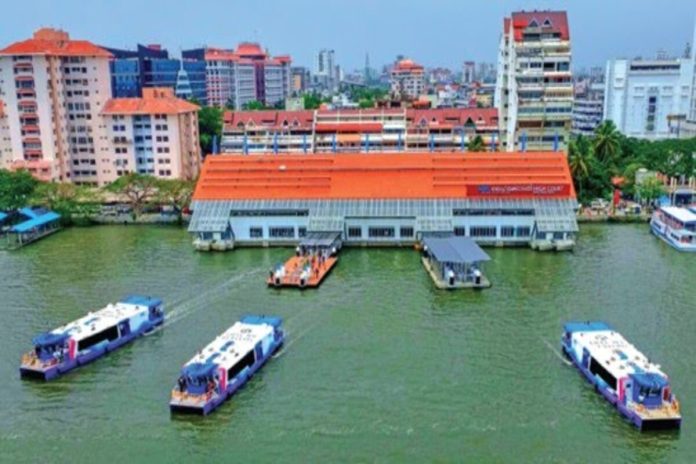 With the aim of achieving energy self-sufficiency, the Kochi Water Metro Limited (KWML) has laid out plans to deploy rooftop solar installations at all Water Metro terminals throughout the city.
KWML estimates that approximately eight MW of energy is required for its operations, and this energy demand can be met through various solar projects supported by the government.
KWML's strategy involves the implementation of rooftop solar systems at existing terminals, with upcoming terminals also included in this initiative.
Sajan P John, the chief executive officer of KWML, further revealed that, in addition to solar panels on terminal rooftops, a dedicated solar plant will be established in Alappuzha district to exclusively cater to the energy needs of Water Metro boats.
Currently, Water Metro operates 12 boats across three routes in the city, with services for four more routes set to launch in the upcoming weeks. These electric-hybrid boats, crafted by Cochin Shipyard Limited, boast unique characteristics, reports Times Of India.
Kochi Metro Rail Limited (KMRL) is already making significant strides in the realm of renewable energy. More than 50 per cent of KMRL's energy requirements are currently met through solar power generated by various solar plants.
In total, Kochi Metro requires 20MW of energy for its seamless operation, with KMRL already producing around 11MW from its solar installations.
Loknath Behera, who serves as the managing director of both KMRL and KWML, has affirmed that Water Metro is on track to achieve complete energy self-sufficiency by 2024.
Furthermore, Water Metro ferry services recently received national recognition as they were awarded the best green initiative at the Urban Mobility India Conference held in Delhi.
Kochi Water Metro
The Kochi Water Metro is an integrated water transport initiative that seeks to enhance connectivity between the mainland and the islands of Kochi.
The project aims to improve the livelihoods and living standards of both islanders and the general public. It is expected to benefit more than 100,000 islanders.
The project is expected to significantly reduce travel time from one part of the city to another. It is projected to decongest the city's ever-increasing traffic and significantly reduce the city's carbon impact.
Once Phase I is fully operational in 2024, it is expected to serve 34,000 passengers a day.
The Kochi Water Metro project envisages the development of 15 identified routes connecting 38 jetties across 10 islands and two boatyards. The overall length of the line is 76.2 km.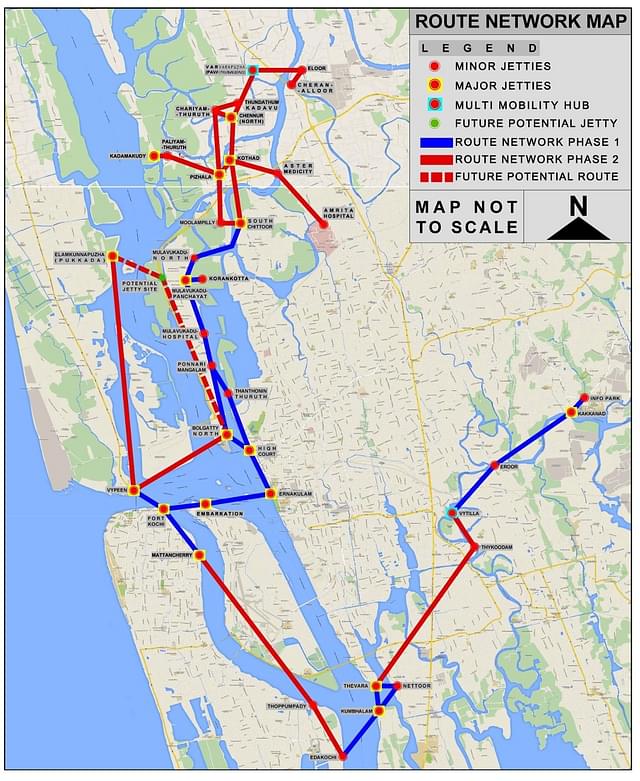 Water Metro Route Network map (KMRL)
Sustainable Mobility And Green Future
The Kochi Water Metro is a groundbreaking project for environmentally friendly urban water transportation.
Upon full implementation, it is anticipated that using electric propulsion for the boats will reduce greenhouse gas emissions by at least 16,500 tonnes annually.
This project contributes to India's goal of becoming carbon-neutral by 2070.
The boats were designed to minimise noise and wave effects that can erode banks and have an impact on the flora and fauna that inhabit the rivers. They were composed of lightweight, recyclable materials.
To prevent any discharges from harming the backwaters and Vembanad Lake, one of the largest lakes in India, toilets were not made available within the vessels.
Additionally, efforts are underway to identify land in several districts of Kerala for the establishment of a 17 MW solar farm in order to achieve carbon-neutral status for the water metro.
According to Behera, the Kochi Metro rail services and Water Metro will be fully solar-powered by 2024.