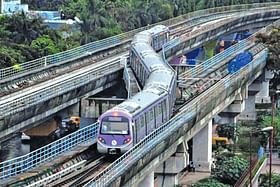 Kolkata Metro, India's pioneering metro network, has been rapidly extending its reach in recent years.
With construction efforts surging on ongoing metro projects in the city and its suburbs, Kolkata Metro remains the only metro system in the country to be controlled and operated by Indian Railways.
In a significant development, the construction work on the Howrah Metro station is now in full swing, aiming to achieve a historic feat.
The Howrah Metro station is set to become India's deepest metro station, taking Kolkata's underground transportation to new depths.
Situated a staggering 35 metres below the surface, this marvel of engineering spans over 5 lakh square feet across four underground levels.
Once operational, the Howrah Metro station will stand as the primary gateway to the bustling city of Kolkata, alongside the already commissioned Sealdah Metro station.
This is an integral part of the East-West Metro project, which will seamlessly connect the twin cities of Howrah and Kolkata. It is anticipated to serve a daily ridership of approximately 6.7 lakh passengers along its entire corridor.
India's first underwater metro service is part of Kolkata's East-West Corridor Project. The East-West Metro Project will link Sector V with Howrah Maidan on the other side of the Hooghly River. It is being built at a cost of Rs 8,600 crore.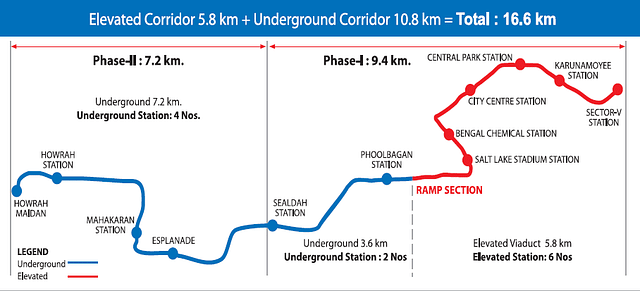 East West Metro Line (KMRC)
The highly-anticipated 4.8-kilometre-long stretch of the East-West Metro, spanning from Howrah Maidan to Esplanade, is expected to open to the general public next month.
At present about 9.1 km of the East-West Metro line from Salt Lake Sector V to Sealdah is operational.
On 2 November, P Uday Kumar Reddy, General Manager of Metro Railway, conducted a thorough inspection of the Howrah Maidan to Esplanade stretch of the East-West Metro Corridor, also known as the Green Line.
Accompanied by VK Srivastava, Principal Chief Engineer of Metro Railway and Managing Director of KMRCL, as well as other senior officials from Metro Railway and KMRCL, General Manager embarked on this inspection journey from the Howrah Maidan Metro station and travelled beneath the Hooghly River to reach the Esplanade Metro station, all within the confines of a metro train.
During his inspection, the General Manager meticulously examined entry and exit gates at various stations, AFC-PC gates, lifts, escalators, and Platform Screen Doors, reports Financial Express.
He also assessed the progress of various critical components, including the underground sections of Howrah Maidan, Howrah, Mahakaran, and Esplanade Metro stations, traction substations, power supply systems, and the ventilation and air-conditioning infrastructure.
The expansion of Kolkata Metro, with its record-setting depth and seamless connectivity between Howrah and Kolkata, stands as a testament to the city's commitment to modernising its public transportation infrastructure.
As the Howrah Metro station prepares to make history, Kolkata's residents and commuters can look forward to an even more efficient and extensive metro network in the near future.