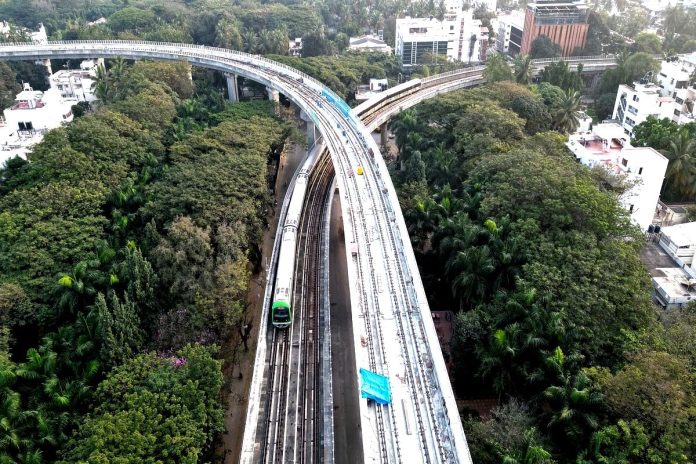 The Chennai Metro Rail Corporation (CMRL) is taking a momentous stride in the realm of urban transportation by initiating a feasibility study for South India's first inter-state metro project.
This ambitious venture aims to connect the thriving industrial hub of Hosur with Bommasandra in Bengaluru.
This initiative, which proposes to link the Tamil Nadu and Bangalore industrial corridor in Karnataka through a metro rail, is the first of its kind.
The proposed route will span a length of 20.5 kilometres. Of this stretch, 11.7 km will be in Karnataka and the remaining 8.8 km will be in Tamil Nadu.
In a bid to comprehensively evaluate the feasibility of this project, CMRL invited bids from consultants to conduct a detailed examination and provide recommendations concerning the alignment, the nature of the mass rapid transit system, anticipated ridership, and estimated construction costs.
Bidders
A total of 11 companies, including renowned names such as L&T Infrastructure Engineering, Tata Consulting Engineers, Infrastructure Development Corporation (Karnataka), RITES, and Srei Infrastructure Finance, have submitted their bids.
The technical evaluation of these proposals is currently in progress, and upon its completion, the financial bids will be analysed. Subsequently, the tender will be awarded to the winning firm.
The consultant selected for this project will initiate their work within two months of receiving the tender award.
While Bengaluru remains one of the megacities in India, Hosur is a burgeoning industrial town that is home to over 2,000 Micro, Small, and Medium Enterprises (MSMEs).
It is further growing as a major centre for electric vehicles (EVs) infrastructure and industries in the state.
Many homegrown EV companies like Ather, Ola Electric, and Simple Energy have already set up manufacturing units in the Hosur-Krishnagiri-Dharmapuri region.
Therefore, the expansion of metro infrastructure is anticipated to catalyse further growth and economic development in the region.
Funding :
While the Tamil Nadu government will fully fund the feasibility study, the funding model for the broader metro network is yet to be determined. This underscores the need for inter-state cooperation and financial planning to ensure the successful execution of this critical infrastructure project, reports Deccan Herald.
Government Support:
The Karnataka government provided its consent for this project in 2022, acknowledging its potential to facilitate hassle-free travel between Hosur and Bengaluru. Subsequently, the Tamil Nadu government allocated Rs 75 lakh for CMRL to carry out the feasibility study, underscoring its commitment to improving regional connectivity.
In a complementary move, the Tamil Nadu government is contemplating the launch of air connectivity from Hosur. This multi-modal approach to transportation underscores the government's commitment to enhancing mobility and connectivity in the region.
The initiation of a feasibility study for the Hosur-Bommasandra inter-state metro project represents a significant milestone in the realm of urban transportation in South India.
This initiative is poised to bolster economic growth, facilitate efficient commuting, and foster regional development.