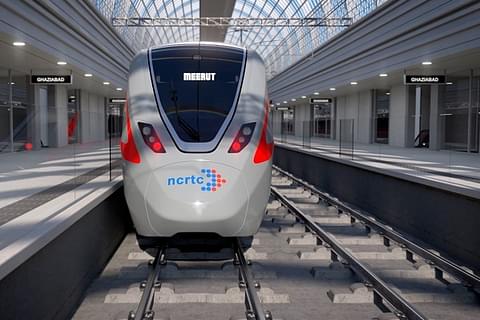 Snapshot
The entire fleet of RRTS train sets are being manufactured in India with more than 80 per cent local content.

The production of 40 trainsets — 30 trainsets for RRTS train of six coaches each and 10 train sets for MRTS train of three coaches each — are being done at Alstom plant at Savli.
In a major boost to the Make-in-India initiative, production of the modern train sets for Delhi-Ghaziabad-Meerut RRTS corridor has commenced at Alstom plant in Savli, Gujarat.
Executed by the NCRTC, the regional trains are using state-of-the-art, next-generation technology for a comfortable commuting experience.
The entire fleet of RRTS train sets are being manufactured in India with more than 80 per cent local content. The production of 40 trainsets (30 trainsets for RRTS train of six coaches each and 10 train sets for MRTS train of three coaches each) are being done at Bombardier (Now Alstom) plant at Savli.
Alstom India Managing Director Alain SPOHR says, "This project is a game-changer in India's regional rail segment, benefitting millions of people and contributing towards socio-economic development. We are happy to begin local manufacturing of these technologically advanced trains for the country's first semi high-speed commuter service. At Alstom, we focus on developing sustainable products and solutions that stand the test of time by operating efficiently for decades to come."
Fully aligned with the country's vision of Make-in-India and Atmanirbhar Bharat, Alstom remains deeply committed to strengthening its local sourcing and supply chain ecosystem.
The design of the trainsets has been finalised at Global Engineering and Technology Centre of Alstom at Hyderabad. The Propulsion System of the trains is being developed at Maneja, Gujarat.
These 3.2-meter wider trains with ergonomic seating and superior riding comfort have been designed for extra seating and standing space.
"The commencement of production of these world-class trainsets brings us one step closer to achieving our promise to provide fast, reliable, safe, and comfortable commuter service to the people of NCR. With the target to start the priority section by 2023, NCRTC team along with contractors is working tirelessly to achieve the set timelines, despite the adversities brought by Covid. RRTS will significantly reduce hazardous air pollution, severe congestion, and unmanageable urban sprawl in the National Capital Region on a sustainable basis," NCRTC Managing Director Vinay Kumar Singh said.
The high-speed, high-frequency trains are designed for 180 kmph speed. Once operational, RRTS will be the fastest, most reliable, most comfortable and safest mode of commuter transport in NCR.
Delhi-Ghaziabad-Meerut RRTS will reduce the travel time between Delhi and Meerut to less than 60 minutes.
The RRTS trains are being designed keeping in mind high-acceleration and high-deceleration that the train needs to undergo given the operational speed of 160 kmph and stations at every 5-10km.
Keeping commuter convenience in mind, the RRTS trains will have 2-by-2 transverse seating arrangement like Shatabdi Express besides comfortable standing space.
The energy efficient trains will have automatic plug-in type sliding doors to reduce air friction and availability of overhead luggage rack.
Optimised aisle width with grab handles and rails for a comfortable journey for standing passengers, cushioned seats, mobile/laptop charging sockets, adequate legroom and onboard Wi-Fi will also be provided.
Business class (one coach per train) with spacious, comfortable, and reclining seats inside the train is also on the cards. One coach in every train will be reserved for women passengers.
A key feature of the RRTS is interoperability of all its priority corridors which facilitates seamless commuter movement across the corridors without the hassle of changing the train.
The trains will be operated with ETCS Level 2 signalling system, which is being used in India for the first time. ETCS Level-2 signalling system will not only facilitate interoperability but will also ensure services at high frequencies, thus reducing the waiting time for passengers.
Currently, the construction work of Delhi–Ghaziabad-Meerut corridor is in full-swing on the entire 82 km RRTS corridor. 800 piers of elevated sections have already been completed with around 8 km of RRTS viaduct.