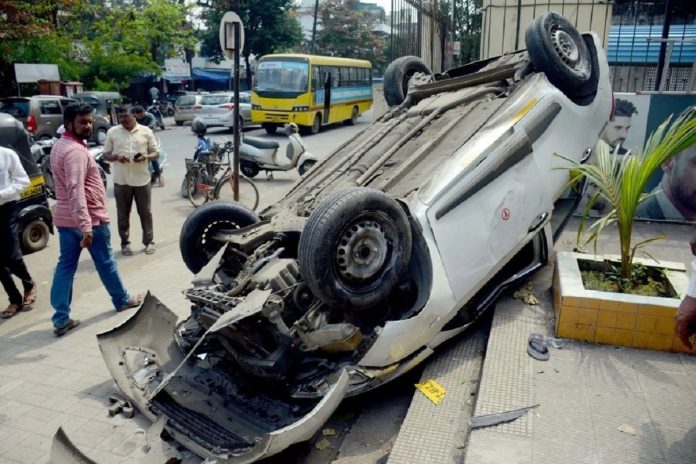 Fatalities due to road accidents continued their upward trajectory, with deaths due to road crash increasing by 9.4 per cent in 2022 as compared to 2021, according to the Ministry of Road Transport's annual report released on 31 October.
Similarly, the injuries on account of road accidents also increased by 15.3 percent in 2022 compared to the previous year.
A total number of 4,61,312 road accidents were reported across the country during the calendar year 2022, claiming 1,68,491 lives and causing injuries to 4,43,366 persons, according to the Road Accidents in India-2022 report.
These figures translate, on an average, into 1,264 accidents and 462 deaths every day or 53 accidents and 19 deaths every hour in the country.
In terms of road types, 32.9 per cent of accidents took place on the National Highways (NH) including Expressways, 23.1 per cent on State Highways (SH) and the remaining 43.9 per cent on other roads.
Out of the total of 1,68,491 fatalities reported in 2022, 36.2 per cent were on National Highways, 24.3 per cent were on State Highways and the remaining 39.4 per cent were on other roads.
Road accident severity — measured by the number of persons killed per 100 accidents — slightly decreased to 36.5 in 2022 from 37.3 in 2021.
Uttar Pradesh continued to account for the largest share of fatalities at 13.4 per cent, followed by Tamil Nadu (10.6 per cent), Maharashtra (9 per cent), Madhya Pradesh (8 per cent), and Karnataka (6.9 per cent).
An analysis of age profile of fatal road accident victims reveals that young people in the age group of 18-45 years accounted for 66.5 per cent of victims during 2022, a trend similar to 2021.
Such a high share of young people in the productive age underscoring major implication on socio-economic cost of the nation, apart from their emotional and psychological impact on family, society and nation, said the report.
Similarly, the gender-wise comparison of road accident deaths for the year 2022 reveals a disproportionately large number of male victims (86.2 per cent), compared to 13.8 per cent female victims.
Road accidents attributable to various types of traffic rules violations reveals that 'over speeding' constitute the main violation associated with accidents, fatalities and injuries, in 2022.
During 2022, 'over speeding' accounted for 72.3 per cent of the total road accidents, 71.2 per cent of total deaths and 72.8 per cent of total injuries.
The number of accidents, fatalities and injuries due to "over speeding" increased by 12.8 per cent, 11.8 per cent and 15.2 per cent respectively in 2022 relative to 2021.
'Driving on wrong side' was the second highest cause of the total road accidents during 2022 accounting for 4.9 per cent share.