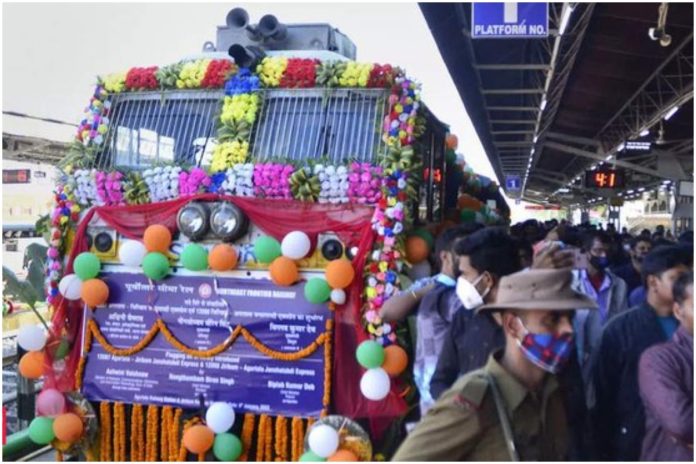 Snapshot
The train would be connecting Manipur and Tripura via Assam.
Fulfilling the long standing demand of the people of Manipur, Tripura and South Assam, the first Janshatabdi express train was flagged off by Railway Minister Ashwini Vaishnaw along with Development of North Eastern Region (DoNER) Minister G Kishan Reddy.
The train would be connecting Manipur and Tripura via Assam.
The inaugural special trains were flagged off from Agartala and Jiribam railway stations simultaneously.
Reddy said that the special trains will be a crucial link to important towns and provide a major boost to passenger connectivity, trade and tourism.
He said that under the Prime Minister's leadership, the North East Region is taking important strides towards development.
"The Prime Minister's priority towards the Northeastern States is evident from the fact that budgetary allocations have nearly doubled in the last 7 years from Rs 36,107.56 crore in 2014-2015, to Rs 68,020 crore in 2020-2021," he said.
The Minister added that with the unprecedented development initiatives and infrastructural growth, the North East Region is set to become the growth engine of the rest of India.
The Minister also highlighted the fact that the region is naturally blessed with abundant resources and the Ashtalakshmi States have their own inherent potential to become global hubs in different sectors be it agro-horticulture, organic farming, textiles, tourism etc.
He said that good connectivity is the key to achieving progress on all the fronts and realizing the true potential in all the sectors and spoke about the government's effort in consistently working towards PM's 'HIRA' model of development that prioritizes Highways, Information ways (Internet), Railways and Airways.
The Minister also expressed his gratitude to the Railway Minister Ashwini Vaishnaw for the various initiatives that Railways was undertaking in enhancing connectivity in the tough hilly terrain of the region.
The Minister highlighted 14 new railway line projects that have been taken up at a total cost of Rs 56,553 crore and that the Capital connectivity project is opening new doors of opportunities in almost all the sectors and laying the groundwork for further development.
The Minister also dwelled on the crucial Agartala-Akhaura project that is currently being developed at a cost of Rs 972.5 crore linking India to the Bangladesh Rail Network — and holds tremendous economic and strategic significance.
Ashwini highlighted that the Prime Minister had a special place in his heart for the Northeastern region and always exhorted all stakeholders for the speedy execution of projects in the Northeast region.
The trains were flagged off through video link from Railway Board in the presence of Chief Ministers of Manipur and Tripura.