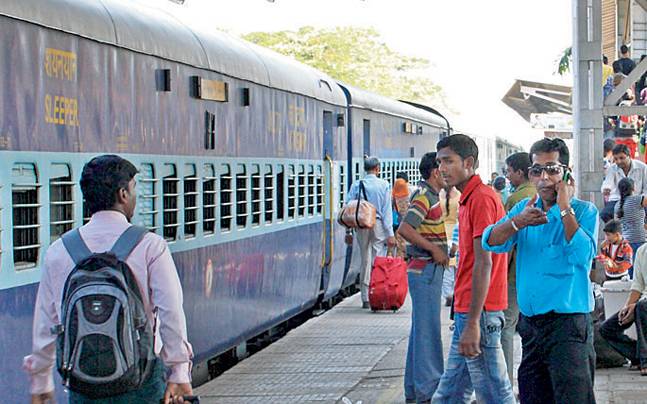 In the biggest ever rail lockdown exercise, more than 2000 trains will come to a grinding halt on Sunday as Indian Railways has decided to suspend the majority of Rajdhani, Duronto, Shatabdi, Mail/Express, Intercity, and suburban services in view of the Janata curfew announced by Prime Minister Narendra Modi to fight back COVID-19.
Almost all passenger trains originating between the midnight of Saturday-Sunday shall not run till 10 pm on Sunday, a first such exercise in the Railways in Independent India.
However, the passenger train services already scheduled for 7 am on the day will be allowed to move to their respective destinations, according to a Railway Ministry official.
While about 1,300 long-distance, Mail/Express services will stand cancelled on March 22, a large number of local trains will also be suspended to contain coronavirus which has become pandemic.
Wherever long-distance trains and the Intercity train has huge occupancy, zonal railways are authorized to decide to not cancel such trains and run them as per schedule/revised schedule so that large no of passengers do not get stranded on Sunday, said the official.
The actual number of trains going to be affected would be known on Saturday only as a complete picture of cancellations at various zones is still being worked out.
Suburban services in Mumbai, Delhi, Kolkata, Chennai, Secunderabad will be reduced to a bare minimum. Indian Railways operates about 2250 mail/express services each day while about 7,000 suburban and local trains carrying more than 2 crore passengers daily. Delhi Metro will also cancel its services across the city on Sunday.
As a precaution and to aid the prevention of the spread of COVID-19, IRCTC, Indian Railways' catering arm, has decided to close the food plazas, refreshment rooms, Jan Ahars and cell kitchens until further notice.
However, the static units supplying meals to the prepaid trains which are in operation would continue. The onboard catering service in premium and mail/Express trains is also closed.
Meanwhile, the cleaning of rail premises including trains, platforms, waiting halls, concourse, ticket windows, front offices are going on full-scale to fight coronavirus.
Giving a clarion call for "social distancing", Modi on Thursday called for a 'Janata curfew' from 7 am to 9 pm on March 22, saying no citizen, barring those in essential services, should get out of their houses, and asserted that it will be a litmus test to show India's readiness to take on the coronavirus challenge.