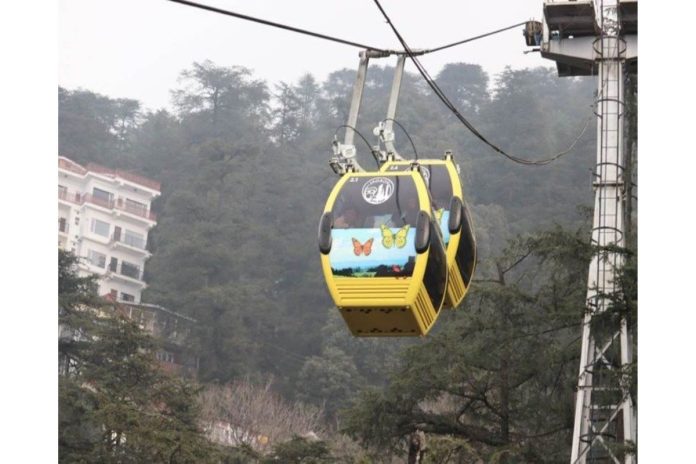 Jabalpur in Madhya Pradesh will be the second city in the country where the ropeway will be used for city transport.
This was announced by Nitin Gadkari, Union Minister for Road Transport and Highways, on Monday (7 November) while laying the foundation stone of 112-km-long Jabalpur Ring Road under Bharatmala Pariyojana.
Jabalpur will become the fourth city after Bolivia, Mexico and Varanasi to introduce ropeway city transport. This will benefit the population of about 1.4 million in the city.
The city is the third-largest urban agglomeration in Madhya Pradesh and is the confluence zone of six National Highways (NH).
The heavy vehicles from these six highways caused long traffic snarls in the city which necessitated the construction of a ring road.
The Minister Gadkari, during his address, announced two-ropeway projects to ease the traffic pressure in the city.
The first ropeway would run from Jabalpur station to Gwarighat-Gurdwara on Narmada via South Avenue Mall. Another ropeway has been proposed from Civic Center to Malviya Chowk, Lordganj and Baldevbagh.
Varanasi Ropeway
In a move to decongest road traffic, a ropeway service is coming up in Varanasi to provide the last mile connectivity to commuters in the city.
The ropeway at Varanasi — the spiritual capital of India — is a 3.8 km journey from Cantonment Railway Station to Godowlia Chowk and is being developed with an investment of Rs 461 crore.
Currently, this journey takes about 60 minutes during peak hours which will be reduced to about 17 minutes post completion of the ropeway, thus, helping ease the pressure on the existing transport infrastructure.
The National Highways Logistics Management Ltd (NHLML), a subsidiary of National Highway Authority of India (NHAI), had invited bids for the first ropeway project for city commuters, in India, in May this year.