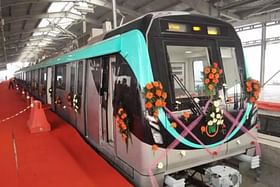 The Greater Noida Authority Board has approved the DPR (Detail Project Report) of 2.6-km extension of Noida Metro's Aqua Line from Greater Noida's Depot station to Bodaki.
The Board in its 128th meeting held on 28 December approved the DPR for the Metro route which has been prepared by the Noida Metro Rail Corporation (NMRC).
The DPR will now be sent to the Central Government after taking approval from the state government. The Authority will try to get financial assistance for this project by connecting it with PM Gati Shakti.
Connecting New Areas
The two industrial bodies – Noida and Greater Noida are currently connected by 29.707-km-long metro line, commonly known as Aqua Line. It comprises of 21 stations starting from Sector 51 Station in Noida and ends up at Delta Depot Station in Greater Noida.
As per the DPR, there will be two stations – Junpat and Bodaki – on the 2.6 km-long track. About 416 crore rupees will be spent in making it. Initially, the metro will be run with four coaches, which can be increased according to the need.
NMRC will select the agency for the construction of this metro track and get this project completed. This route will also be elevated.
With the construction of this route, the residents of Noida-Greater Noida will be directly connected to the upcoming Multi Modal Transport Hub (MMTH) at Bodaki in Greater Noida.
Three Extensions of Aqua Line
The Metro Rail Corridor from Depot to Bodaki is second of the three proposed extensions of the Aqua Line.
The Public Investment Board (PIB) under the Union ministry of Finance last month approved a 14.9-km extension of the existing Aqua Line.
The Sector 51 – Knowledge Park V extension corridor will have nine stations and will be built at a cost of Rs 2,197 crore. The project will now be placed before the Union Cabinet, whose clearance will allow work to begin on the project.
The first phase of 9.1-km will have five stations – Sector 122, Sector 123, Greater Noida Sector 4, Ecotech and Greater Noida Sector 2. In the second phase of 5.8-km, four stations – Greater Noida Sector 3, Greater Noida Sector 10, Greater Noida Sector 12 and Knowledge Park V – will be built.
The proposed extension of existing Aqua Line corridor will cater to the needs of Noida/Greater Noida residents especially of Greater Noida (West).
Similarly, the authority is working on extending the Aqua line from Sector 142 to Botanical Garden.
The Sector 142- Botanical Garden corridor will directly connect the Aqua Line with the Blue Line to provide a seamless commute from Greater Noida to Delhi. The Noida authority and the Noida Metro Rail Corporation (NMRC) are yet to finalise the alignment of the proposed Metro link.