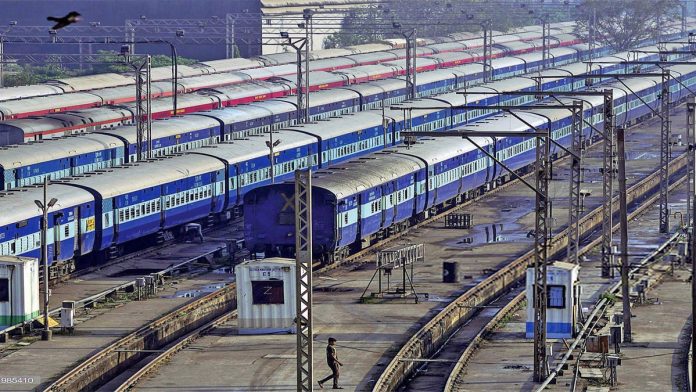 One may need to carry a personal soap bar, hand sanitiser, mask, clean handkerchief and Aarogya Setu App on mobile phone before leaving home for work besides avoiding air conditioning instead keeping windows open for ventilation at office as per a new rail manual for resuming operation post lockdown.
As the country prepares for graded exit to lockdown, Indian Railways will be required to resume its operations fully or partially in near future.
It is essential that a standard operating procedure (SOP) is put in place so that railwaymen take precautions, said a senior Northern Railway official involved in preparing a detailed manual restart plan.
Known as "Rolling stock operations continuity plan post COVID-19 lockdown," it has formulated details for dealing with the situation at work places including production units, workshops and offices post lockdown.
Some of production units are gearing up for partial opening on April 20 while rest are to wait for May 3 as per the prevailing situation.
The COVID-19 curve trajectory which required a fitting containment response, the lockdown continuation is a necessary to avert larger crisis.
"The aim is to ensure better health, while resuming normal working, said the official.
Outlining the protocols to be followed in the working areas, the manual has sought maintaining at least a metre's distance during face-to-face conversations and no sitting side by side during meals at the canteen. In fact, it has advocated for people to bring their own lunch.
The strategy document finalised by Northern Railway, which can become a standard operating procedure (SOP) for railways, focuses on three aspects – change the way we arrive at and leave from workplaces, change the way we behave and interact with others at workplaces and change the way we use and maintain facilities at workplaces.
While travelling solo or with others, one needs to ensure people sit apart in the vehicle, the driver and passenger's temperature has been checked and instead of air conditioning, the windows are kept open.
It has also advocated for shifting focus from in-person meetings to virtual collaborations and handshakes to be avoided.
In order to ensure safety at workplace, sanitisers with dispensing units should be provided at all work points and frequently used objects such as door handles, knobs, keyboards, files and furniture should be cleaned with sanitisers 4-5 times a day.
The document says the new normal will also include opening doors using leg and elbow and occupying alternate urinals to maintain social distance.
In his forward note, Railway Minister Piyush Goyal said, "As we move forward we expect to encounter new roadblocks. Foreseeing these challenges, Northern Railway Rolling Stock wing has prepared guidelines to help us adopt a new working culture in face of this threat of Covid-19."
In its endeavor to ensure transportation of essential items during the nationwide lock down due to the pandemic, railways continues to deliver essential commodities like food grains to strengthen the government's efforts in managing the challenges and adverse impact of coronavirus in the country.