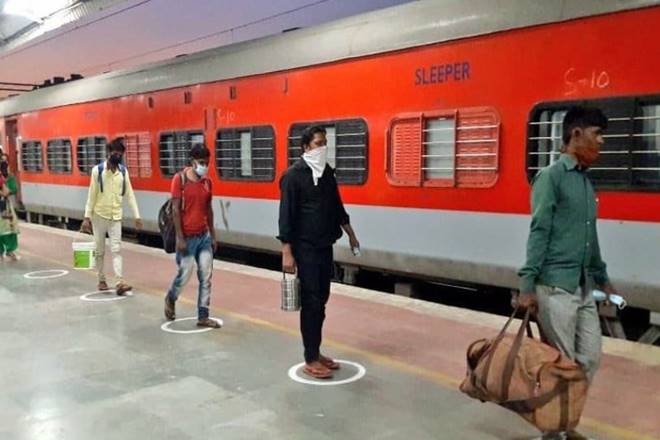 Leading from the front in the hour of crisis, Indian Railways has asked the District Collectors across the country to come out with an action plan involving the list of stranded people intending to return and their destinations to ensure their safe and faster returns amid the increasing number of migrant deaths.
Stepping up efforts, the public transporter has scaled up its operations and transported more than 2 lakh people per day while it has run 1,150 Shramik Specials so far carrying more than 15 lakh stranded workers since May Day.
There are several cases of mishaps involving stranded migrants on the road in the absence of a proper evacuation plan by the concerned states which has caused great hardship to thousands of hapless people affected by Covid-19 pandemic.
Railway Minister Piyush Goyal in a tweet has asked the district collectors of the country to identify and prepare a list of stranded labourers and destinations, and apply to railways through the state nodal officer.
Railways is ready to run Shramik Special trains from all the districts connected by the rail network in the country, said a senior railway official, adding Indian Railways has got the capacity to run almost 300 Shramik Specials a day.
While a proper plan involving lists to be prepared by district authorities is expected to ensure stranded migrants across the country reach their homes more conveniently and comfortably, Indian Railways is ready to augment the running of Shramik special trains as per the actual needs of the districts, said an officer.
Full capacity operationalisation of the rail rakes would provide significant relief to the migrants across the country who are seeking to go to their home states.
As of today, more than 15 lakh migrants have already been transported by the Railways to their home states and almost 1,150 Shramik Specials have been operationalised.
Railways can easily transport almost double the number of migrants per day, said the official.
Shramik Special trains have originated from various states such as Andhra Pradesh, Delhi, Gujarat, Haryana, Maharashtra, Punjab, Rajasthan, Tamil Nadu, Telangana, Karnataka, Kerala, Goa, Jharkhand, Uttar Pradesh, Madhya Pradesh and Bihar.
According to railways, Shramik trains were terminated in various states like Andhra Pradesh, Assam, Bihar, Chhatisgarh, Himachal Pradesh, Jammu & Kashmir, Jharkhand, Karnataka, Madhya Pradesh, Maharashtra, Manipur, Mizoram, Odisha, Rajasthan, Tamil Nadu, Telangana, Tripura, Uttar Pradesh, Uttarakhand and West Bengal.
In these Shramik trains, proper screening of passengers is ensured before boarding. During the journey, passengers are given free meals and water.
Arun Kumar Das is a senior journalist covering railways. He can be contacted at [email protected].