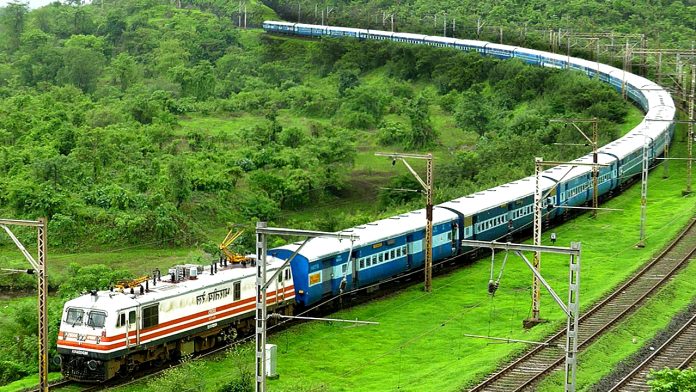 India's ambitious dedicated freight corridor project will de-congest up to 70 per cent of Indian Railways' goods traffic, resulting in more efficient movement of passenger traffic, Press Trust of India has reported.
As per Dedicated Freight Corridor Corporation of India (DFCCIL) MD Anurag Sachan, this extra room will enable Railways to run more semi-high speed premium trains like Gatiman and Vande Bharat Express.
Even the average speed of regular passenger trains may rise by 25 kmph from the existing 60-70 kmph due to lower freight traffic.
DFCCIL is currently building two dedicated freight corridors – the Eastern Dedicated Freight Corridor (EDFC) or the Western Dedicated Freight Corridor (WDFC).
The 1,856 km-long EDFC will connect Ludhiana in Punjab to Dankuni in West Bengal. The corridor is currently partially operational and soon the Kanpur-Khurja section will be opened for parcel services. The complete corridor is expected to be completed by December 2021.
The 1,483 km Western Dedicated Freight Corridor will connect Rewari in Haryana to Mumbai's Jawaharlal Nehru Port Trust. This corridor too is expected to become operational by December 2021. A part of the Rewari-Iqbalgarh 626 km section has already been completed.
These dedicated freight corridors will be built at a cost of Rs 81,000 crore. The project has received partial funding from the World Bank and the Japan government's financial assistance arm JICA.
Via the dedicated freight corridors, the Indian Railways hopes to win back freight traffic which has drastically fallen over the years. In 1950s the Indian Railways had a 86 per cent freight share in the country, which has now fallen to 36 per cent.
As per Sachan, this figure is lower than other countries like China and the US whose railways service has an almost 50 per cent freight share.
Besides these corridors being constructed in the first phase, the Indian Railways has planned four additional ones for the future.
An East-West Corridor passing through Maharashtra, Madhya Pradesh, Chhattisgarh, Odisha, and West Bengal. The length of this corridor will be 2,000 kilometres.
A North-South corridor, with a route length of 2173 kilometres, which will pass through Delhi, Uttar Pradesh, Madhya Pradesh, Maharashtra, Telangana, Andhra Pradesh, and will terminate in Chennai, Tamil Nadu.
An East-East corridor, running along the eastern seaboard with a route length of 1,100 kilometres has also been announced.
This will start in West Bengal, pass through Odisha, Andhra Pradesh, and terminate in Chennai.
Lastly, a South-South Corridor, starting from Chennai, will pass through Andhra Pradesh and Karnataka, and will terminate in Goa.