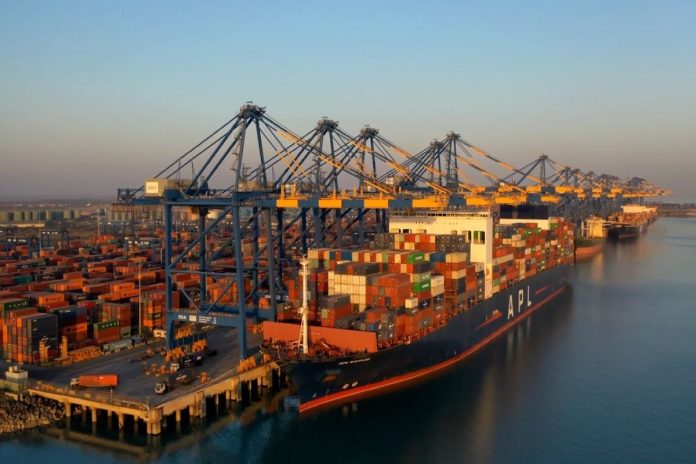 Adani Ports and Special Economic Zone (APSEZ) witnessed a substantial 48 per cent increase in cargo volumes, reaching 37 million metric tonnes (MMT) during October.
This milestone signifies the first instance where the port operator managed to exceed 35 MMT of cargo across its diverse ports, as reported by Money Control.
For the initial seven months of FY24 (April-October 2023), the port operator accomplished an impressive total cargo volume of 240 MMT, showcasing an 18 per cent year-on-year (Y-o-Y) growth.
The company's Haifa Port in Israel handled over 1.1 MMT of cargo in October, performing slightly better than its average monthly cargo volume over the previous six months.
Within India, the recorded volume growth for its ports was approximately 15 per cent Y-o-Y.
Karan Adani, chief executive officer and wholetime director of the company, highlighted, "The improvement in cargo volumes is testimony to the success of a three-pronged business strategy which encompasses the focus on higher operational efficiencies, integrated business model with an end-to-end service to our customers, and our long-term strategic partnership model with our stakeholders, including customers."
Further, the group's flagship Mundra Port has set another record by handling 16.1 million tonnes of cargo in October, the highest-ever volume by any port in India, reports Economic Times.
It is the largest port in the country with 102 MMT of cargo handled so far this year with a good 9 per cent Y-o-Y growth. The port crossed the 100 MMT mark in 210 days, surpassing the record of 231 days last year.
In addition to the strong overall cargo growth, Adani Ports achieved double-digit Y-o-Y growth in three major cargo categories — dry bulk, liquids, and containers during the initial seven months of the current FY.
Container handling in India by the port operator reached 5.5 million twenty-foot equivalent units (TEUs), reflecting a 13 per cent Y-o-Y increase, with Mundra Port accounting for 4.2 million TEUs.
Dry bulk cargo volumes also experienced a 14 per cent increase, primarily driven by substantial increases in iron ore (up 260 per cent) and coal volumes (up 13 per cent). Liquids and gas volumes saw a remarkable surge of approximately 20 per cent.
In the same period of FY24, Adani Ports successfully handled around 5,700 ships and serviced 27,300 rakes, including some of the largest ships ever accommodated by the respective ports.