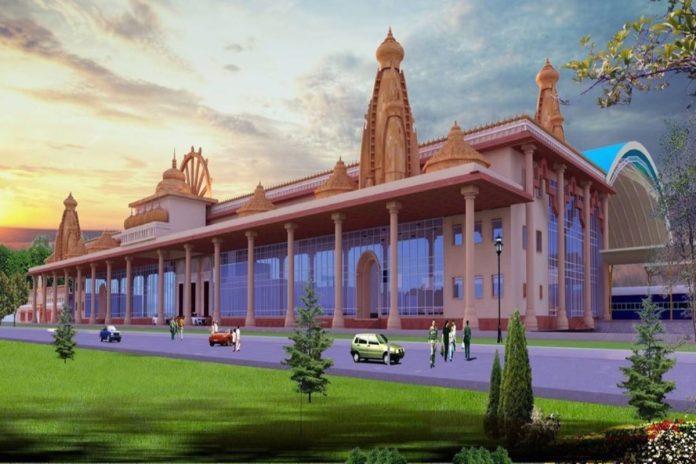 Indian Railways has geared up to complete the redevelopment work of the Ayodhya railway station by 15 January 2024.
This comes with the announcement of the much-awaited installation of the idol of Ram Lalla at the Ayodhya temple on 22 January 2024, with the presence of Prime Minister Narendra Modi.
The Railways subsidiary, RITES, has been engaged for the execution of development work of Ayodhya railway station and its circulating area in connection with development of the station for religious and cultural importance.
Constructed at an estimated cost of over Rs 240 crore, the redeveloped station will have all modern passenger amenities including shopping malls, cafeterias, recreational facilities and adequate parking lots.
Besides the ground floor, the station will be a two-storeyed building with total area of 3,645 sqm.
All platforms will be improved and there will be two 6-m wide foot over-bridges. There will be landscaping of front circulating area and the station will be having a large circulating area.
According to the plan finalised by the Railways, there will be a second entry to the station and the porch of the new station building will be extended further till the railway boundary.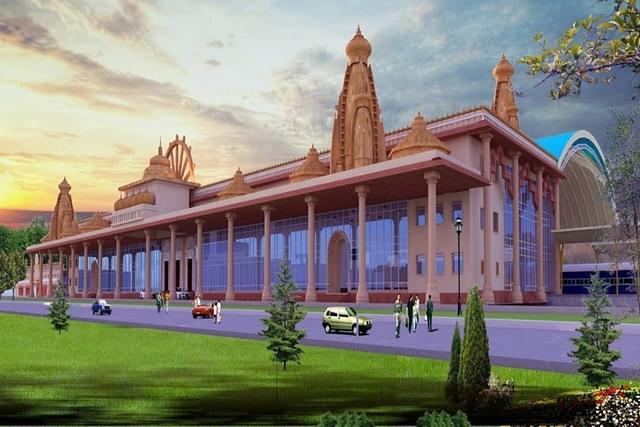 An artist's impression of the new Ayodhya Railway Station.
Salient Features
The new station building is a triple-storeyed building having an additional front porch to be provided over the drop-off zone, to protect the passengers from adverse weather conditions.
The station building shall be IGBC certified-green station building. The station will have provision for separate arrival and departure of the passengers.
The station will have 12 lifts, 14 escalators, food plazas, shops for puja needs, cloak room, sick room, and infant care rooms as upgraded passenger amenities.
Triple height atriums with skylights are provided to facilitate natural light in the building. Waiting halls are being provided at both ground and first floor level.
Mezzanine floor is designated for retiring rooms (30 beds), ladies dormitories (30 beds), gents dormitories (44 beds) etc.
The station is is expected to have daily capacity of 49,400 persons, with adequate toilet facilities, staff quarters and a sewage treatment plant.
A large air concourse is also being proposed to be provided over platforms 4/5, with all passenger amenities at one place along with spaces for retail, cafeterias and recreational facilities.
Work is going on full speed to complete the station redevelopment work before the installation of the idol of Ram Lalla and once it is done in January, it will mark the culmination of decades of efforts to reclaim the site, including mass mobilisation and a legal battle.