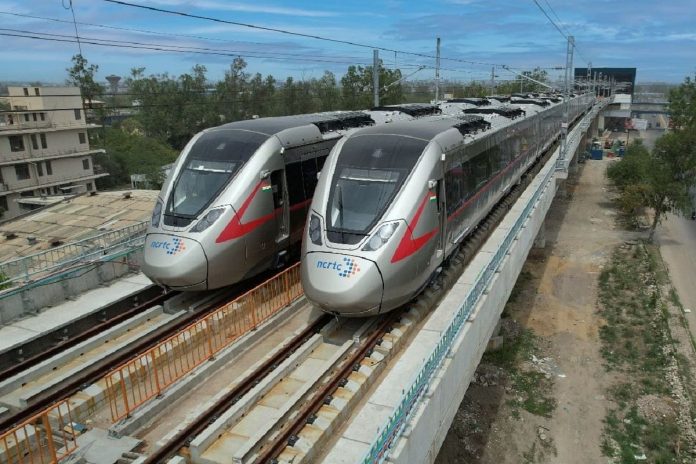 Prime Minister Narendra Modi is slated to inaugurate the long-awaited RAPIDX service on the priority section of the Delhi-Meerut RRTS corridor on 20 October.
The 17-km-long priority section of RAPIDX, India's first Regional Rapid Transit System (RRTS), will be thrown open to public, between Sahibabad and Duhai, after the inauguration.
The Prime Minister along with Housing and Urban Affairs Minister Hardeep Singh Puri and Uttar Pradesh Chief Minister Yogi Adityanath, are likely to take a ride on the RRTS train at Sahibabad. They will return to Sahibabad on the same train after reaching Duhai Depot.
The priority section includes five stations: Sahibabad, Ghaziabad, Guldhar, Duhai and Duhai Depot.
The RRTS project is being executed by the National Capital Region Transport Corporation (NCRTC).
"In another six months from now, 25 km more will be added to the RAPIDX network. Stations at Muradnagar, Modinagar North, Modinagar South, and Meerut South will be ready for operations," according to the NCRTC.
The Delhi-Meerut RRTS corridor will cover 82 kilometres in just an hour's time, once it is completed in 2025.
According to NCRTC, the RAPIDX services will be the nation's first railway system with a maximum operational speed of 160 kmph along its entire length. The average speed of RAPIDX trains on the RRTS route will be 100 kmph, surpassing both metro trains and Indian Railways' passenger trains.
In June this year, the Commissioner for Metro Rail Safety has given clearances to RAPIDX service.
Manufactured by Alstom in Gujarat, RRTS trainset will feature six coaches, including one premium coach, with separate entry and exit on platform. All the coaches are being equipped with passenger information system.
Construction on the rapid rail service began in June 2019. Commissioning of the full 82.15 km corridor, along with Metro services in Meerut, is scheduled for June 2025.
The corridor is being built at an estimated cost of Rs 30,274 crore. It is being co-financed by Asian Development Bank, Asia Infrastructure Investment Bank and New Development Bank.
According to an estimate, daily ridership is pegged at up to 800,000 passengers. But despite this high footfall, revenue from the passenger segment is expected to remain constrained.
To address this concern, NCRTC is exploring avenues to shore up more alternate revenue streams such as advertising. Moving small goods cargo, also called parcel, over the network is also among the avenues being explored.