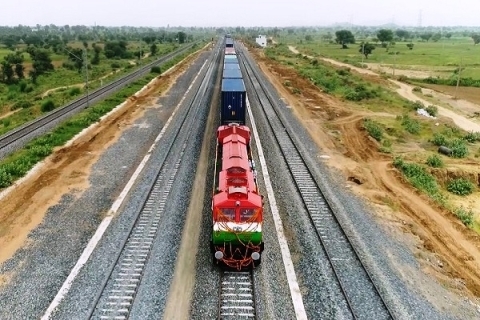 Indian Railways has approached the Finance Ministry seeking waiver on goods and services tax (GST) on remittances it makes to the dedicated freight corridors (DFCs) for transportation of freight in the exclusive goods corridor.
According to the railways, 18 per cent GST expected to be levied on DFC payment would make the business non-viable.
Since transferring money within the government does not attract GST under normal circumstances, GST should not be levied on goods payment, the railways sources said.
A letter has been addressed to the Finance Ministry on the issue and decision has to be taken by the Finance Minister and the GST Council whether to waive off the 18 per cent GST on these remittances, the sources said.
According to the DFC authorities, while the tax authorities have indicated 18 per cent GST on remittances made by the railways to the Rs 1.24 lakh crore DFC for usage, the railways is exploring options to avoid the GST levy on payouts it makes to its exclusive freight track network.
This payout is in the form of a track access charge (TAC) which presently hovers upwards of Rs 7,000 crore annually which is likely to rise further.
The DFC project which has missed many targets in the past, is however nearing completion now.
Construction of Western DFC is being funded by JICA and the Eastern DFC by World Bank.
According to the railways, over Rs 50, 000 crore fund has been provided by World Bank and JICA to carry out DFC work on these two sections till now.
Recently, Eastern DFC was completed and the focus has now been shifted to Western DFC.
Blaming it on the prolonged land acquisition process, DFC managing director R K Jain, said since we are expediting the project after getting all land clearances the Western DFC would be fully ready by March 2024 and with this the corridors would be operational on total 2,843 km routes across the country.
He said at the moment 84 per cent of the existing DFC route is already operational.
Earlier, the railways has decided to construct the Sonnagar-Andal section of the Eastern DFC of its own by excluding it from the Eastern DFC.
The work on a 100-km stretch from JNPT to Vaitarana in Mumbai has been slower for various reasons including encroachment.
However, Jain said the issues has been resolved now and the work has started in the section and we are expecting to complete it soon.