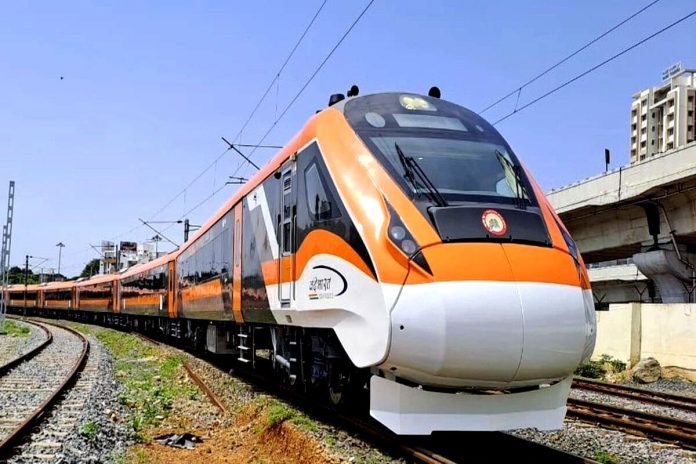 As part of the continuous effort for transforming the experience of Indian Railways with the expansion of Vande Bharat Express — the network now has 33 operational routes across the country.
Runs through 24 states/UTs, journeying over 12,000 km.
Connects an expansive network of 160 stations.
Barring a few states where rail track electrification is going on and the UTs Diu, Puducherry, Lakshadweep, Andaman and Nicobar, all states and UTs are being catered to by Vande Bharat services.
The map below depicts the comprehensive network of these trains, showcasing the remarkable growth of Vande Bharat.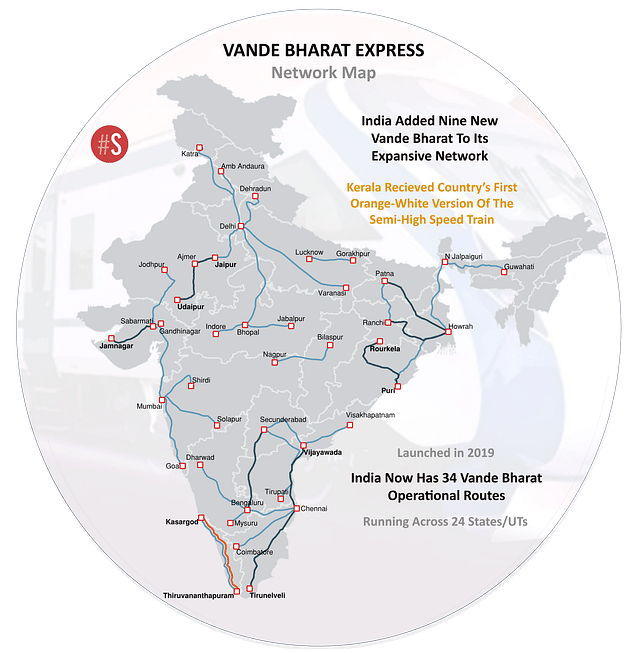 Mapping the Vande Bharat network.
13 October 2023: Kinet Proposed New Design For Vande Bharat Sleeper—Kinet Railway Solutions Ltd, a collaboration between TMH, RVNL, and Russian supplier LES introduced a fresh design concept for Sleeper Vande Bharat trains.
Features a lion embossed in a multi-colour scheme
Both the exterior and interior are different from ICF's design
First prototype of this VB sleeper is slated for 2025.
While BEML is producing the first VB sleeper transient for ICF, Kinet is free to design its own sleeper design.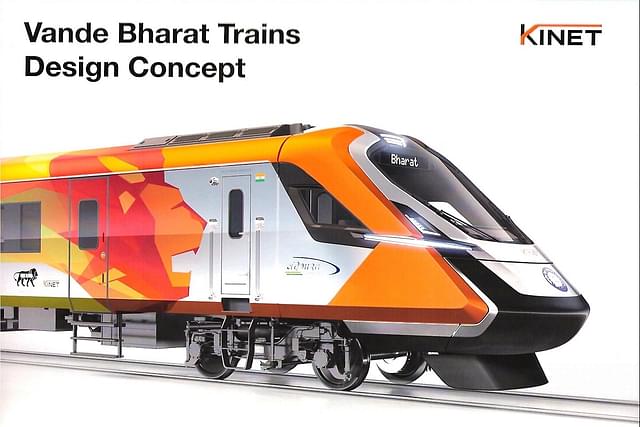 Proposed new design of the sleeper Vande Bharat train.
02 October 2023: First Look Of The Sleeper Edition—The Vande Bharat sleeper train prototype, with 857 berths, will be ready by December 2023 and it will be rolled out from ICF Chennai in March 2024.
BEML producing 10 sleeper trains for ICF
Design finalised by BEML in consultation with ICF
Railways awarded contract for manufacturing 200 sleeper VB trains to the consortiums of:

– TMH-RVNL and

– BHEL-Titagarh Wagons

All sleeper trains to have a consistent design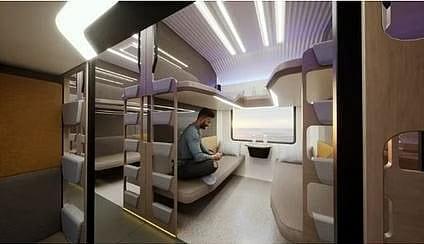 First look of the sleeper Vande Bharat Express.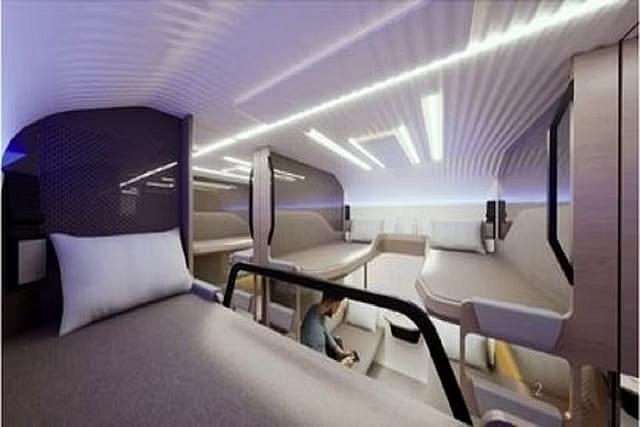 First look of the sleeper Vande Bharat Express.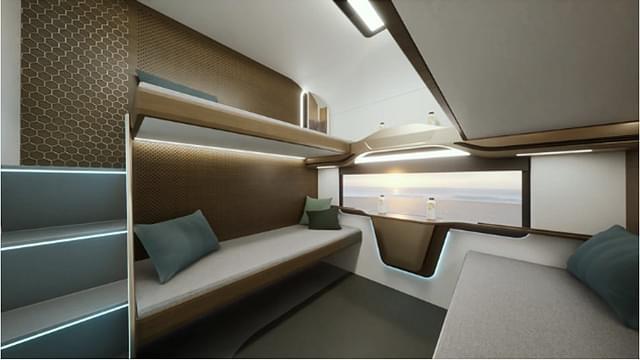 First look of the sleeper Vande Bharat Express.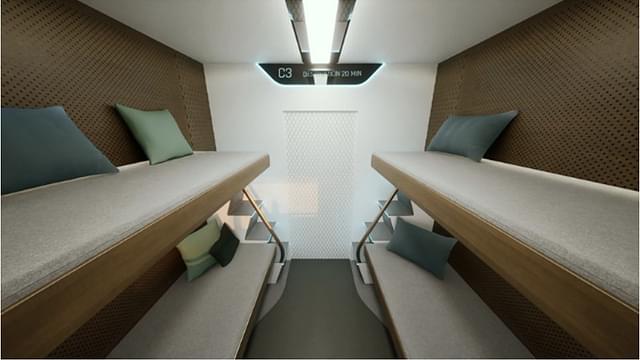 First look of the sleeper Vande Bharat Express.
24 September 2023: Mega Launch of Vande Bharat Trains—PM Modi inaugurated a total of nine Vande Bharat trains for service between several popular destinations, a record for a single day.
New Routes:

Udaipur-Jaipur
Vijaywada-Chennai
Tirunelveli-Chennai
Ranchi-Howrah (via Tatanagar & Purulia)
Jamnagar-Ahmedabad (via Rajkot)
Secunderabad-Bengaluru
Rourkela-Puri (via Dhenkanal)
Patna-Howrah
Kasaragod-Thiruvananthapuram (features new orange-white design).

With this, now there will be two VB trains in Odisha and three AB trains connecting to Kolkata.
List of All Operational Vande Bharat Routes
Vande Bharat Express train is India's first semi high-speed train set with quick acceleration and contemporary passenger amenities.
According to the Indian Railways, these trains are leading examples of Make-in-India initiative, and mark a significant progress for the country's railway network and the enhancement of passenger experiences.
Launched: 18 February 2019
First route: Delhi-Varanasi, UP